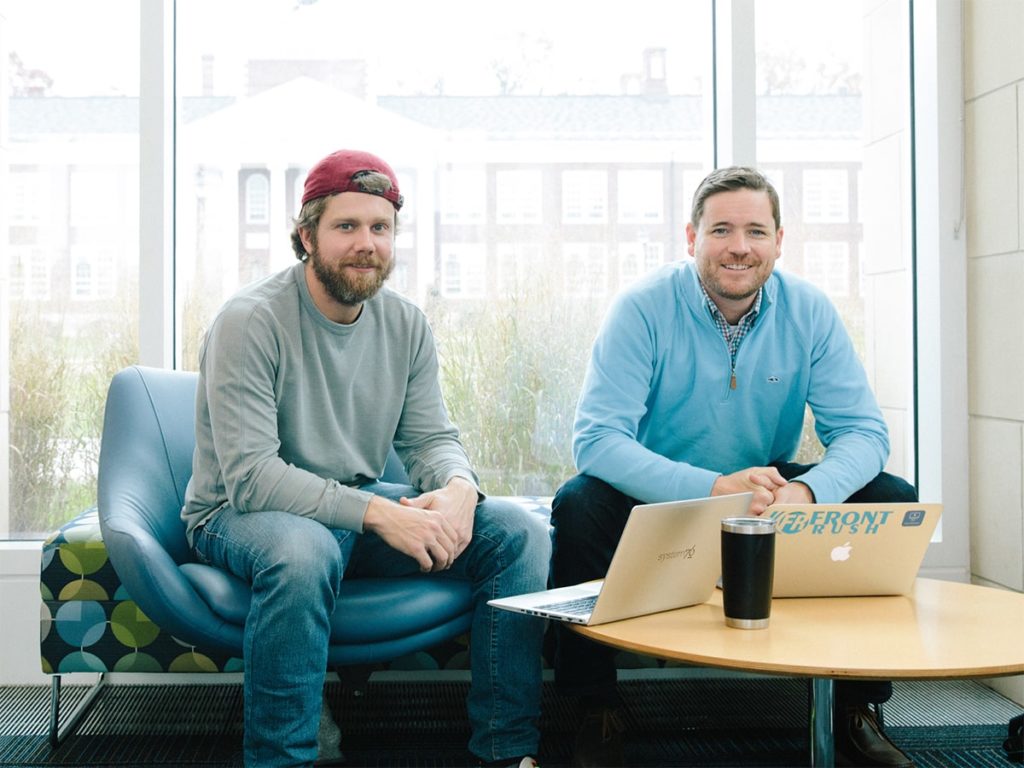 Brad Downs and Sean Devlin have always had an entrepreneurial spirit — ever since their rival candy businesses in 4th grade.
"We've been friends forever and have always talked about how awesome it would be to start a company together," says Downs.
They eventually achieved that dream by creating Front Rush, an athletics management program that helps college coaches manage their recruiting processes. Now, they've shared their talents with TCNJ as entrepreneurs-in-residence, housed in the School of Business.
The inspiration for Front Rush came while Downs — who pitched for TCNJ's baseball team — was living with his former teammates after graduating in 2005. He noticed that the assistant coach would come home with stacks of files of recruits and wondered why they couldn't put that information online instead. He immediately contacted Devlin to validate the idea, and they created Front Rush by the next year. In 2015 they sold it to Reigning Champs, the world's largest digital network of student-athletes, parents, coaches, and colleges, and it has since been the most widely used college coach data management tool in the country.
But one year into a four-year consulting contract with the new company, Downs realized he wanted to reconnect with his alma mater.
"TCNJ has given me a lot over the years," Downs says. "This is where our idea originated, so let's get back to our roots."
As entrepreneurs-in-residence, their charge is to advocate and promote entrepreneurship on campus, in whatever form that may take.
"It could be as simple as chiming in in class, giving lectures and talks, or meeting with students who have ambitions to become entrepreneurs and just need guidance," says Devlin. So far they've worked alongside students in professor Kevin Michels' course on innovation, and served as judges for TCNJ's 2018 Mayo Business Plan Competition — they'll be available to mentor teams in this year's competition.
And the larger vision for the program is to spread the word about innovation in general, so that TCNJ students come to see themselves as agents of change — just as Downs and Devlin had with Front Rush.
"When students see an alumnus who's gone out and created something from the ground up," says Michels, "it sends a signal about what's possible."
Downs and Devlin are located in Business Building 215, with office hours available this spring on Mondays and Thursdays. Sign up for an appointment.
---
—Steve Neumann