Things are growing in the School of Education — literally, in room 112: Swiss chard, lettuce, basil, and tomatoes. The vertical gardens look a bit other-worldly, but their purpose is decidedly down to earth: to educate future teachers about incorporating sustainability ideas in the classroom.
"It definitely inspired a lot of new ways to go about teaching," said elementary education major Quinn Souchek '19. She said the class last semester promoted inquiry-based learning to "help the young students we teach be advocates for their own learning and the environment."
A grant from TCNJ's President's Climate Commitment Committee funded the garden towers used as part of associate professor Louise Ammentorp's "Introduction to Environmental Sustainability Education" course.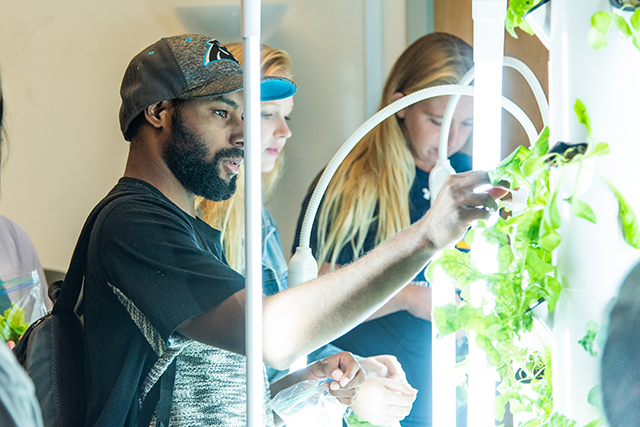 Foremost, the gardens can connect children to the source of their food. "They can see the magic, and that it really grows," said Ammentorp, from the Department of Elementary and Early Childhood Education.  Beyond that, they can be used to teach science, literacy, social studies, math, music, research, writing, and more," she said.
"There was a lot we took away from it," said Shivonne Pena '20. The class provided good ideas in introducing the environment into the classroom, both theoretically and practically, since students could take home the fruits of their learning.
Students celebrated the end of the class with salads and smoothies from the garden. The course, which will be offered again this semester, is one of a five-course minor in sustainability education for education majors.
The gardens — on wheels and illuminated by solar-powered lighting — will also be featured in some sustainability workshops TCNJ is hosting for teams of educators from five local elementary schools. Funded by a two-year grant from the federal Environmental Protection Agency, the workshops started last semester and also are planned for spring.
The teams have worked on projects that focus on water resources, such as developing refillable water stations and rain gardens for their schools.  "We really want to work with teachers in the field to make changes in practice that are systemic," said Lauren Madden, associate education professor who applied for the grant. "The teachers work so hard at these workshops … It's so satisfying going into the schools and seeing what they've done."
At Parkway Elementary School in Ewing, the team created an outdoor classroom in an underutilized courtyard. "The (TCNJ) training opened our eyes to what is around us locally, what resources are available," said Debbie Cornelius, who teaches second grade.  "The presenters they brought in showed us things we could bring back immediately to our classrooms."
It is hoped that projects like the vertical gardens and other ideas presented in the workshops are both a resource and an inspiration for educators, said Madden. That's our main focus – helping teachers," she said.  "We're working hard to make this environmental study a signature program at TCNJ," Ammentorp said.
---
— Patricia Alex