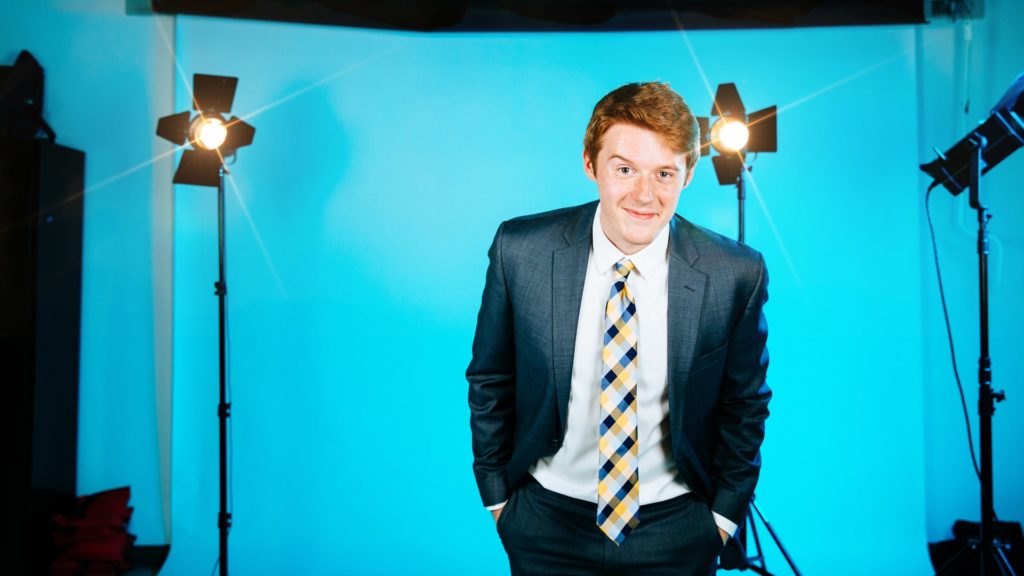 Some of you may know senior communications major Kevin Walsh Jr. as the guy behind the camera taking videos at campus events like homecoming or as manager of Lions TV. But now he's focused on learning as much as he can from the giants of Late Night — Jimmy Fallon and Stephen Colbert.
Walsh, who says his dream job would be comedy writing and producing, seems on track to do just that as an intern at The Late Show this semester, which comes on the heels of his fall internship at The Tonight Show.
The Fallon and Colbert internships, for which he receives credit and pay, have exposed him to a little bit of everything involved in working on a big network show. He demurs when asked about meeting celebrities on the sets. (Although a Facebook post reveals he bought the Christmas sweaters for Arianna Grande and Tracy Morgan for a musical skit on Fallon.) "You get to see a lot of cool people but you have to carry yourself professionally — no selfies," he said
Before he started commuting three days a week to the big city for his internships, Walsh says he got formidable experience right here in Ewing — experience that no doubt helped him land his late-night gigs.
"Ever since freshman year I've been saying yes to opportunities and working hard, and that came through on my applications," he says.
From the outset, Walsh joined TCNJ Lions Television, where he was a comedy producer and now serves as station manager. He's participated in Campus Movie Fest — taking home the 2018 National Best Comedy award for student filmmakers for Milkman, made with his friend and fellow senior Tyler Law.
More recently, many are familiar with his work as a videographer and editor for the Office of Communications, Marketing and Brand Management, where Walsh and Law produced memorable videos such as Dr. Gitenstein's Bucket List, featuring the retiring TCNJ President sledding on an Eick cafeteria tray and riding the lion statue.
He doesn't yet have a job lined up for after graduation in May, but he's not worried about his next big break. "I'm looking at it the same way I look at everything," he says.  "I'm sure something will come up and I'll say yes to that, too."
---
—Patricia Alex