Jordan Paton '19 was recognized by the Society of Health and Physical Educators for her outstanding achievements as an undergraduate health and physical education major at the 2019 SHAPE America Convention in Tampa, Florida.
Paton won the Major of the Year award, which celebrates high-achieving undergraduate students in the fields of health, physical education, recreation, and dance.
"Winning was a huge shock. This award feels like a huge accomplishment," says Paton. "Not only does it recognize academics, but more importantly, it recognizes community involvement and the impact I've made on TCNJ."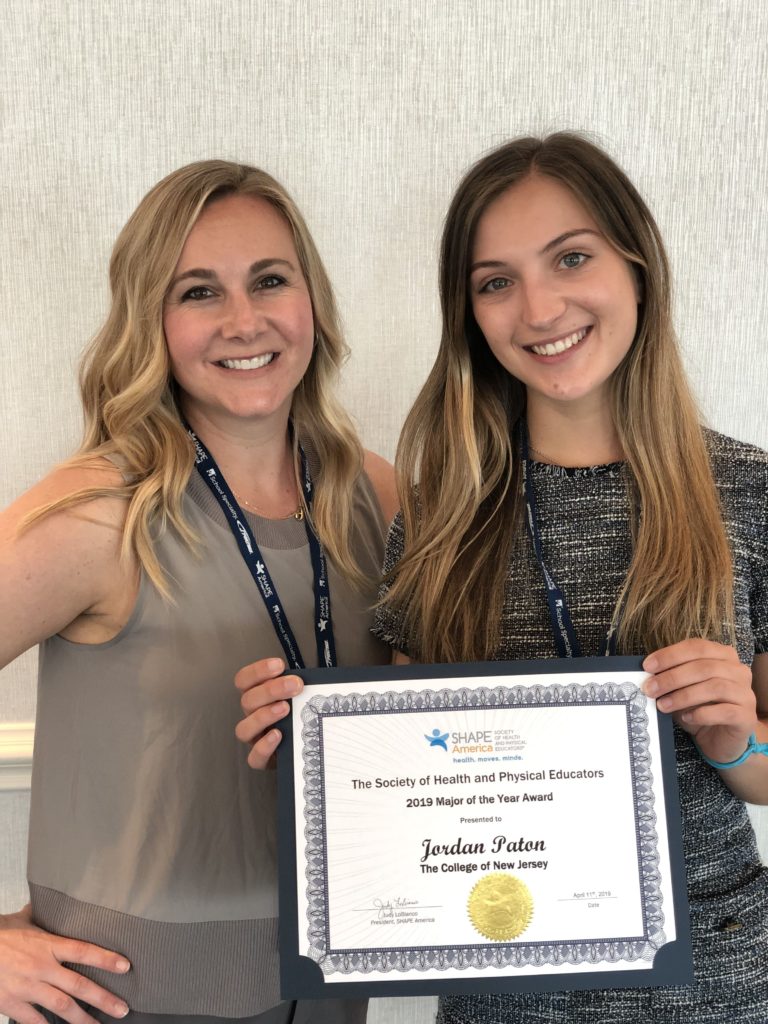 Paton's recognition was well deserved, says Laura Bruno, assistant professor of health and exercise science. "The best quote that comes to my mind when I think of Jordan would be, 'The dream is free, but the hustle is sold separately,'" she says. "This defines Jordan's work ethic. She has known what she has wanted from the get-go but has worked tirelessly to achieve it."
Paton served as the Future Professional representative for the state and was the New Jersey student representative at the State House for the signing of the Recess Bill. She has also been published multiple times in her discipline's premiere academic publication, the Journal of Physical Education, Recreation and Dance.
Paton credits TCNJ with her many successes. "TCNJ is the reason I have become a successful student and will one day become a successful teacher. I remember sitting in my first health and physical education teaching class my freshman year with a huge smile on my face. From that moment, I knew I was in the right place following a path that I will be passionate about throughout my career," she says.
In the future, Paton hopes to present at the SHAPE America Convention and inspire her students to be healthy, active individuals.
Founded in 1885, the Society of Health and Physical Educators is the nation's largest membership organization of health and physical education professionals. The annual convention unites educators, world-renowned speakers, honorees, athletes, and researchers to discuss issues facing health and physical educators.
Nominees for this award must be juniors or seniors with a GPA of 3.0 or higher working toward a degree in a health, physical education, recreation, or dance field. Eligible students must also be current SHAPE America members and must have provided 3–5 contributions to their schools or communities.
---
— Sarah Voorhees '20