In their time at TCNJ, they've founded new programs, connected with their students, followed their passions, and earned well-deserved titles. And now that they're moving on to the next phase of their lives, the college would like to say thank you for your hard work and dedication. You will be missed!
Meet the four accomplished professors who are retiring from TCNJ this year:
John Allison

Professor of Chemistry
John Allison retired on January 1, 2019 after 15 years at TCNJ. He earned the status of Professor Emeritus on February 19, 2019.
Allison received his bachelor's degree in chemistry from Widener University and his PhD from the University of Delaware. After his graduation, Allison spent two years at Stanford University as a National Science Foundation Postdoctoral Fellow. Then he found his calling. At Michigan State University, Allison fell for forensics. He worked as a professor at MSU for 25 years, where he held various positions, including director of the Mass Spectrometry Facility and associate chair of the chemistry graduate program. In 2004, he brought his knowledge of organometallic and forensic chemistry to TCNJ and became founding director of the forensic chemistry program.
Marion Cavallaro

Professor of Counselor Education
Marion Cavallaro retired on February 1, 2019 after over 37 years at TCNJ. She received the designation of Professor Emeritus on February 19, 2019.
Cavallaro earned her bachelor's degree from the University of Delaware and her PhD and MA in counseling psychology from Ohio State University. Cavallaro began working at the college in 1981 — back when the signs still said "Trenton State College." She regularly taught Career Counseling and Counseling Theory and Techniques at TCNJ. She has made it her personal goal to engage students in learning experiences that make course material personally and clinically relevant. Cavallaro also provided personal and career counseling at the TCNJ Counseling Clinic. Her scholarly interests include career counseling for diverse populations, curriculum strategies in counselor education, and clinical supervision.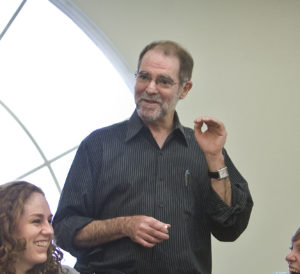 John Landreau
Professor of Women's, Gender, and Sexuality Studies
John Landreau is retiring effective July 1, 2019. Landreau has been teaching at TCNJ for 27 years.
After earning his bachelor's degree from Temple University, Landreau graduated from Princeton University with his PhD in Latin American literature in 1994. Landreau joined the TCNJ Modern Languages Department in 1992, where he taught courses in Spanish and Latin American literature. Then he changed his major. Landreau, who had developed an interest in gender studies, joined the women's, gender, and sexuality studies faculty full-time in 2004. His primary area of interest is men and masculinity, and he has published a number of scholarly articles about the subject. Many of these articles combined his passions for Latin American literature and masculinity. Landreau lives in Philadelphia, and during his time at TCNJ, you could often find him commuting from the West Trenton train station on his very cool folding bike.
Ruth Palmer

Associate Professor of Educational Administration and Secondary Education
Ruth Palmer is set to retire effective July 1, 2019 after 24 years at TCNJ.
Palmer received her bachelor's degree from the University of the West Indies at Trinidad and her MA and PhD in educational psychology from Howard University. Palmer taught a variety of courses, including Adolescent Learning and Development and the FSP Pedagogy and Politics of the Civil Rights Movement: A Focus on Citizenship Schools, Freedom Schools, and Community. Her research interests include teacher education, the scholarship of teaching and learning, and middle-level education. Palmer advised TCNJ's student-led Secondary Education Teachers Association, and she has served on the Board of Education for Ewing Township Public Schools. She was elected as a general representative to the Executive Board of the Council on Undergraduate Research in 2017.
---
— Sarah Voorhees '20