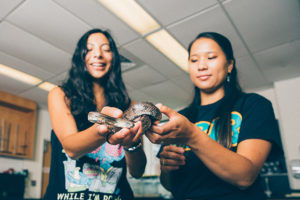 There's the heat, swampy bogs, and bites from mosquitos, chiggers, and ticks. And snakes. Lots of snakes. All the elements for a great summer, right?
The answer is a resounding yes for two biology majors tracking corn snakes in the middle of New Jersey's Pine Barrens. "I'm usually covered in bug bites and scratches," says Alina Osborn. "But I love it, even when I'm miserable I love it."
Osborn and Emmalee Kugler, both seniors, have spent two-to-three days a week in the field and the rest in the lab studying the snakes as part of a summer Mentored Undergraduate Summer Experience directed by biology professor Howard Reinert.
Reinert has had a long career studying snakes and nearly died — twice — from rattlesnake venom. He's now turned his attention to the more docile and colorful corn snake.
Working with the state Department of Environmental Protection, Reinert is in the middle of a multi-year project tracking about 35 corn snakes in the Pine Barrens that were surgically implanted with transmitters in a TCNJ ecology lab.
The students head to Wharton State Forest early in the day and track the snakes' movements, habitats, and appetites. They're studying how forestry practices such as controlled burns, and threats, like poachers and motorists, affect the endangered snakes. The work will help the state develop a conservation plan for the reptiles.
The TCNJ researchers collect eggs from some of the snakes to "head start" them in the lab — sheltered from the hazards of the wild. There they are hatched, fed, and returned to the forest in the spring, heavier than snakes who have spent the winter in hibernation. TCNJ's research is trying to determine whether the practice might be a good way to strengthen and increase the population.
Reinert says the research is likely the largest — and only — study of corn snakes, which inhabit the coastal areas from New Jersey to Florida. The Pine Barrens are their northernmost habitat.
Though the MUSE program ended, Osborn and Kugler will continue working with the snakes into the fall and use the research for their capstone projects.
Kugler, a pre-med major, says the research is valuable and that she has grown attached to the snakes. "I love being in an ecology lab and it's great that we were able to get out there and deal with the natural habitat."
The experience helped steer Osborn toward conservation work and she's hoping to continue working in the Pine Barrens before heading to graduate school in a year. She also did research on bees in Greece as part of another TCNJ project. But this summer had a big impact: "I can't imagine my life without snakes now."
---
— Patricia Alex