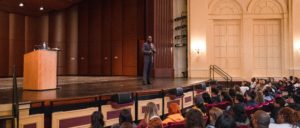 Yusef Salaam, one of the five falsely imprisoned teenagers in the Central Park Jogger case that rocked New York City in 1989, spoke to a packed crowd in Kendall Hall on November 20. The case the "Central Park Five" became famous and was featured in the 2019 Netflix miniseries, When They See Us.
"The Central Park jogger case is a story of people that can be brought low only to rise because the truth always becomes unburied," said Salaam. "We emerged from the ashes like the phoenix."
Salaam spoke of his experience in the spotlight during the case proceedings and how he overcame injustice. He left the audience with three big takeaways from his journey.
Reflect On Yourself
"I was taken out of the world and put into the belly of the beast," Salaam said, recounting his time in prison for a crime he did not commit. He told the story of one encounter with an officer during his time in prison. "The officer, he came over to me and asked, 'Who are you?'" Salaam explained his story but the officer interrupted him, "'I know all that, I've been watching you and you don't belong here.'And then he asked again, 'Who are you?'"
"That question changed the trajectory of my entire life," said Salaam.
While he reflected after this incident, he found the story of Joseph in the bible, whose name is the hebrew equivalent of his arabic name, Yusef. He explained that Joseph was also imprisoned for a crime he did not commit.
"The beautiful part of this story is that he came home a free person," said Salaam. The story inspired him to be hopeful and not let the prison system break his spirit.
Never Stay Down
After being released from prison, Salaam said, "I would just lie around with the lights off." However, he was determined not to let his experiences ruin his spirit.
"I was enamored with computers. I taught myself everything," he said. He got a job at a hospital doing IT work. He was so good at his work that he received offers from other companies who wanted his skills.
"If I could be in one of the most damned places and then make something of myself, we can do anything," Salaam said. "If you fall, fall on your back because if you can look up, you can get up."
Reexamine the Past
The "Central Park Five" later sued for the mistreatment they experienced—and won.
Now Salaam is a speaker and an advocate bringing attention to issues like racial discrimination, race in the news, and discrimination in the justice system. He challenges his audience to think about his case and similar cases in a more modern context. "This story is a story that needs to be examined with a modern eye," he said.
The event was made possible by Student Affairs, Academic Affairs, the School of Humanities and Social Sciences, and the Office of Institutional Diversity, Equity and Inclusion.
---
— Julia Meehan '21