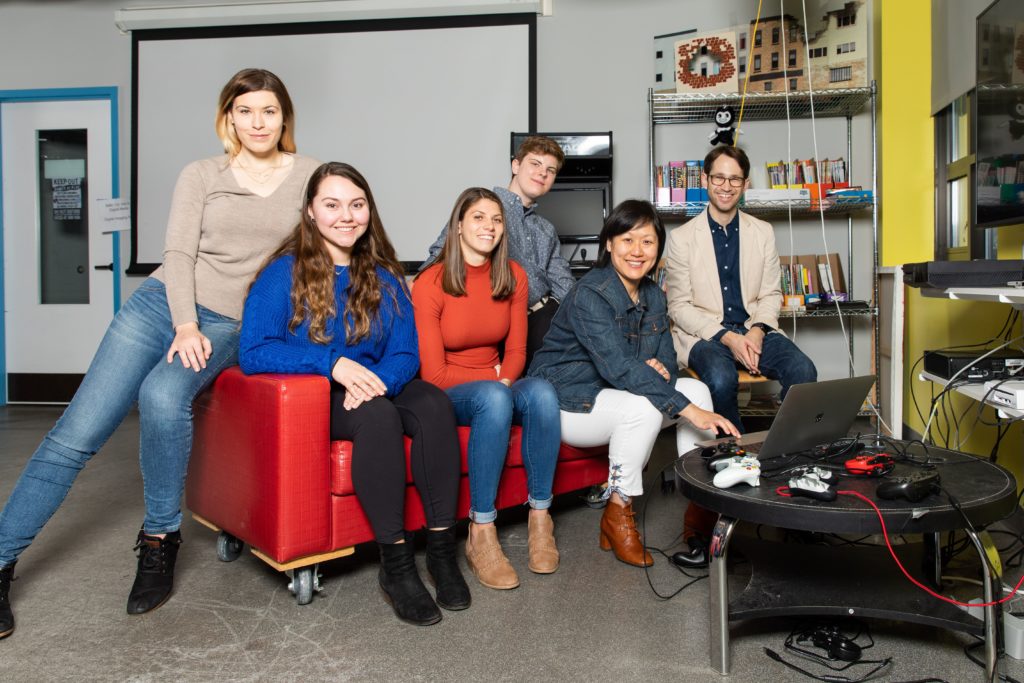 How do you start a conversation with college students about drinking responsibly in today's digital-first world? According to faculty from the School of the Arts and Communication, the answer starts by playing a video game.
Yifeng Hu, an associate professor and department chair for communication studies and Josh Fishburn, an assistant professor for interactive multimedia, are working with students from a variety of disciplines to create "Fresh Start," an interactive narrative-based video game that guides users through a series of alcohol-related situations that college students may experience.
"There is evidence showing that serious video games, guided by behavioral science and designed to entertain players as they educate, train, or change behavior, have resulted in improvements in health behaviors," Hu says. "Capitalizing on young people's pre-existing attention and enjoyment of video games for education, especially health promotion, seemed to be a natural thing to do."
The game guides users through different narrative scenarios, including resisting peer pressure, consent and bystander intervention, and what to do when a friend has had too much to drink. It also includes mini-games like making a standard drink and persuading peers to stop drinking.
"Based on preliminary data collected from playtests, users felt that the game was very engaging and fun, and effective in meeting the three goals for the intervention: teach mindful drinking skills, raise awareness about the effects of unhealthy drinking habits, and demystify alcohol-related misconceptions," Fishburn says.
Students have worked on all aspects of the game, including communication and health promotion research and theory application, character dialogue, program art, and game architecture. The game has been in development since June 2018, with a total of 14 students contributing.
The current team includes public health and communication studies double majors Deanna Amarosa '21 and Katie La Capria '20, interactive multimedia major Miles Cumiskey '21, and interdisciplinary business major Olivia Knutson '21.
Amarosa and La Capria applied several health communication and promotion theories and models, like the Elaboration Likelihood Model, which explains two different routes of information processing based on people's motivation to change their behavior and ability to process the information. The student researchers report that during their playtests, students mention that their favorite feature of the game is the peer persuasion mini-game because they can apply the persuasion strategies they learn to real-life situations.
"It is important to use these theories as the basis for the gameplay because they make the game more engaging and enjoyable, and ultimately, the potential to be more effective," Hu says.
The team has worked closely with a range of stakeholders across campus, including the Alcohol and Drug Education Program, Anti-Violence Initiatives, the Title IX office, and Campus Police. These partnerships provide crucial learning outcomes for the game while also offering institution-wide feedback on the game.
"'Fresh Start' is a logical and purposeful tool that falls under a population-based strategy that we have been implementing for 10 years," says Joe Hadge, assistant director for the Alcohol and Drug Education Program.
Population-based strategies aim to make healthy behaviors the norm, which lowers the risk for the entire population. "With this tool, the goal is to engage the individual through fun, quality education, not old-school scare tactics," Hadge says.
"Interdisciplinary collaboration is at the heart of our product and our process," Fishburn says. "Students have learned the power of digital interactive media to share information and shape user's perception, attitude, and behavior in new and innovative ways."
---
— David Pavlak