Estefany Rodriguez fused her talent for art with her passion for community during her recent study abroad experience to Johannesburg, South Africa where she drew on TCNJ inspirations to teach sixth graders to see art in unexpected places.
Rodriguez, a senior art education major, says that her craft looks very different in South Africa than it does in the United States. At Dainfern College, the co-ed K–12 day school in Johannesburg where she taught during the fall semester, teachers integrate art into the curriculum of each subject area rather than art being one single, stand-alone subject.
"This gives students the opportunity to creatively express what they learn along the way," says Rodriguez. "It focuses on character building instead of grades." 
Rodriguez's priority was teaching her students to see art as it exists in their own communities. For example, Johannesburg is famous for its street art but Rodriguez says her sixth grade students mostly considered it vandalism.
"It can be hard to think about something from a new perspective," she says. "Even adults struggle with the concept of street art versus graffiti and whether or not it is vandalism."
Rodriguez was pleased that the students were open to diving deeper into the question and absorbing her lessons about social justice and civic commentary, which were largely inspired by TCNJ courses in which she studied political and social justice-based graffiti artists like Banksy.
"By the end of the lesson they realized that art comes in all types of mediums and it is all around us," she says. 
She also crafted a lesson in which students used graffiti-style bubble letters to create words that described their community, then they combined their words on a board to create a graffitied wall. Through the project, Rodriguez says her students learned that graffiti can be a beautiful work of art that can bring people in the community together.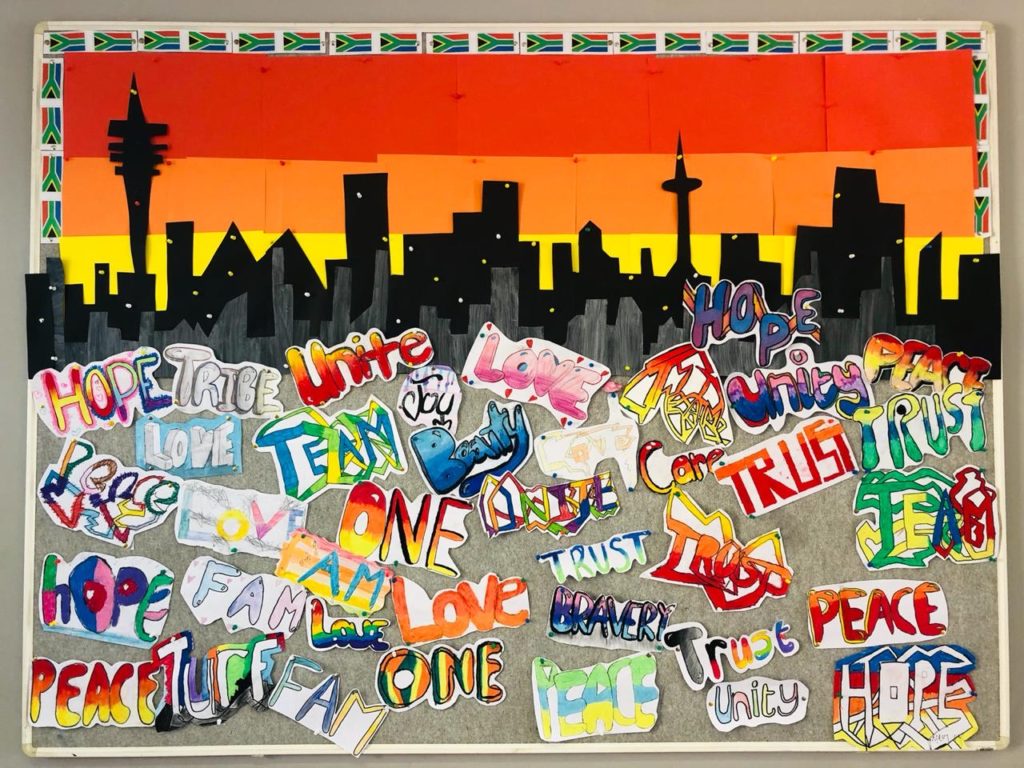 "Art is boxed into these categories of painting and drawing and sculpture, but art is all around you," she says. "If I can teach children to see art in a more holistic way, then I feel like I'm doing what I should be doing as an educator."
Rodriguez is the 2019 recipient of the Andy and Maria Polansky Fellowship, which recognizes TCNJ students who demonstrate exemplary leadership and a commitment to enriching the community.
As an art student and Bonner scholar, Rodriguez has participated in many community-based projects. In 2018, Rodriguez collaborated with other students and local artists to create the "Fabric of Trenton" display, which featured her idea of using a quilt-like background to represent how the people of Trenton come together to create a community.
Art education coordinator and associate professor of art Lisa LaJevic nominated Rodriguez for the fellowship. "Stef continually shows leadership and strives to make a difference in the communities she serves," says LaJevic. "I am continuously impressed by her warmth, sincerity, and maturity."
The Andy and Maria Polansky Fellowship provided Rodriguez with a $1,500 stipend to fund her student teaching experience in Johannesburg.
Rodriguez hopes to teach art to high school students internationally, but her long-term goal is to return to a local lower-income community in the U.S. to get her start.
"Art education in lower-income communities is important to me because it is a part of my story," she says. "It wasn't until I was able to express myself through the arts that I was able to flourish."
---
— Emily W. Dodd '03, with reporting by Sarah Voorhees '20