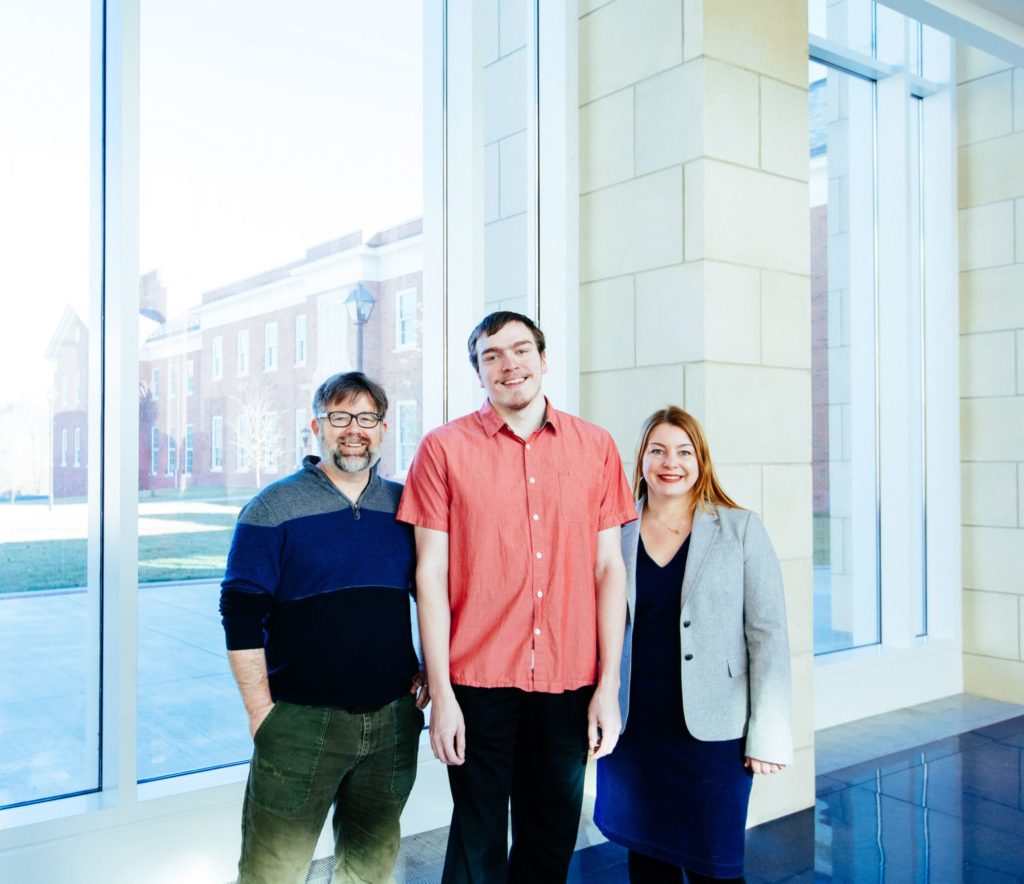 The rain in Spain falls mainly during the cooler months, and on the island of Mallorca, hardly at all in July. But when overnight precipitation spritzed the Mediterranean paradise July 8, it left behind something more for small talk: a layer of grit coating every outdoor surface.
Education professor Lauren Madden, there for the third consecutive year teaching in the college's off-site graduate education program, hadn't seen any rainfall on her prior visits, let alone one so messy. So she certainly could not have anticipated what the following night's chitchat would lead to: a half-dozen TCNJ educators, students, and alumni playing roles in solving a minor climatological brainteaser. 
"It's a great big TCNJ family project," she says with a laugh.
The meta-story goes something like this: Over dinner, Madden and global programs coordinator Stuart Carroll were discussing the unusual rain with Adele Guy, a British colleague who lives in Mallorca year-round and had seen "dirty rain" before. Locals point to Africa as the source, says Carroll. But what actually caused it? Because Madden specializes in science, her companions asked for an explanation.
"I said, 'if it's that infrequent, it's probably just dirt from the trees and hills that makes its way into the drops of rain and ends up drying on the cars,'" Madden recalls. But her answer was unpersuasive, so she called physics professor and atmospheric scientist Nate Magee, who asked Madden to bring home samples so he and student Aaron Lynn '20 could examine them.
Dirty rain is hardly new to the Mediterranean, nor is surmising about where it comes from. Residents of southern Italy feared that Mount Etna or Mount Vesuvius had erupted when "pioggia rossa," or red rain, fell on March 7, 1803. But scientist Giuseppe Maria Giovene quickly determined that was dust carried on winds from Africa. 
More recently, NASA, via its CALIPSO satellite, has captured startling 3D images of massive dust plumes on the move from the Sahara. Depending on how much rain falls in the desert, NASA estimates that 182 million tons of Saharan dust is believed to travel beyond Africa's northwestern coast each year. About 27 million tons are deposited more than 3,000 miles to the west in South America's Amazon basin, supplying the world's largest rainforest with the nutrient phosphorous.
Magee, whose main area of research is cloud physics, was aware that aerosol particulates from the Sahara may play a role in the formation of hurricanes near the Azores, just west of North Africa. That's right: Shards of sand one-tenth the width of a human hair may trigger devastating storms in the United States and Caribbean.
Madden's question offered Magee and Lynn an opportunity to zero in on one day's activity in a region critical to global weather. Lynn went all-in, analyzing images from CALIPSO and other satellites and unpacking massive weather data sets to "back-forecast" winds to their source.
The pair had an additional tool in their belt: The physics department's $700,000 scanning electron microscope, acquired under a bond referendum approved by New Jersey voters in 2012. They used it to examine the specimens Madden collected from playground equipment with paper towels. The instrument, rarely found on campuses without graduate science programs, showed that the dust had the sharp edges characteristic of desert sand, as opposed to the more rounded aspect of ocean sand. Moreover, the samples matched the known chemical composition of the sands in the western Sahara.
Putting it all together, Magee and Lynn concluded that the dust went airborne on winds in the Grand Erg Oriental sand sea in Algeria, took off like a skateboarder on a ramp as it passed over the Atlas Mountains, and formed a plume that reached four miles into the sky. Impelled across the Mediterranean on 50 mph winds, the khaki-hued nimbus was unmistakable in satellite images, and would have been visible to anyone in a boat, Magee says. But following a 600-mile journey, the dust cloud apparently went unnoticed in Mallorca, because it got there late in the evening.
"The main part of the dust arrived after the sun went down, and then it rained, and the air mass moved on, and so the dust cloud was pretty much gone by the time the sun came up," says Magee.
Lynn was utterly stoked. "It's almost like solving a mystery," he says. 
Madden decided that all this technological sleuthing would be ideal material for "a really good, sciencey children's book." 
"It's about these tiny dust particles and giant wind patterns," she says, "and this takes those abstract concepts and makes them concrete for children." 
To make the book a reality, Magee and Lynn are putting their work into simple language. Jill Turner '14, a special education teacher, will illustrate. Craig Kapp '99, is developing an augmented reality supplement to make images from the microscope accessible. And Jack Meyer, an elementary school teacher who attended the Mallorca program, will translate it into Spanish.
And to think, an idle conversation about the weather set the whole thing in motion.
---
— John T. Ward, for TCNJ Magazine