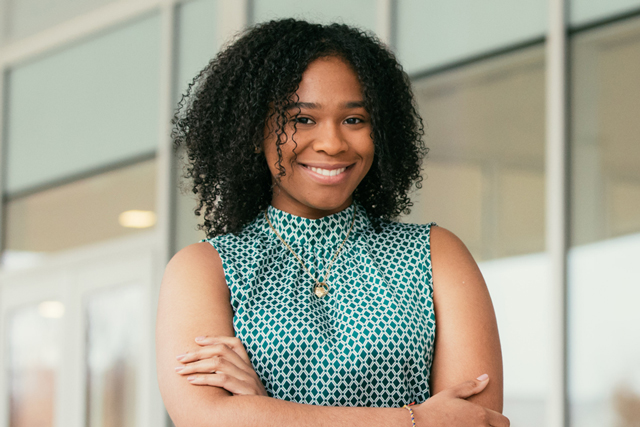 Sherida Hinckson has a knack for numbers. It was encouraged by her parents — especially her father, who used to write out math problems on pieces of scrap paper while he was at work and bring them home for her to solve. Unsurprisingly, she excelled in the subject, and when it came time to pick a major as a high school senior, she chose accounting "on a whim" because it meant she could work with numbers for a living.
Four years later, that whim has sharpened into a vision. Now a senior accounting and information systems major, Hinckson boasts a resume full of internships, runs the TCNJ chapter of the National Association of Black Accountants, and has a job lined up at Ernst and Young after she graduates this spring. She credits faculty and staff mentors for helping her find her path and for inspiring her to inspire others — as she puts, paraphrasing the NABA motto, "to lift as I climb."
It was assistant professor Maria Domingo who made a daunting entry-level accounting course something Hinckson looked forward to, "even though I struggled in the class. She's so engaging, she makes you think you're having fun." It was Debra Kelly, until last fall the director of the campus Career Center, who reviewed Hinckson's resume just a few months into her freshman year and encouraged her to jumpstart the dormant NABA chapter. And it was Bea Chiang, accounting department chair and former NABA adviser, who Hinckson calls "amazing, and so encouraging, always asking, 'How can I help?'"
Now, it's Hinckson herself who's eagerly paying that mentorship forward. This spring, Hinckson organized a NABA-sponsored "financial literacy celebration" on campus, open to students regardless of major, to highlight the importance of saving and the benefits and risks of credit. She's also bringing that outreach to K-12 schools in Trenton, where she's developed a program to use pop-music lyrics as a way to connect with kids on financial issues.
In May, she'll graduate and head to a position at Ernst and Young, with whom she's already interned in New Jersey, New York, and Colombia. She'll leave campus knowing she's prepared to make an impact.
"A lot of students from my high school didn't go to college," she says. "I'm really lucky to have gone here."
---
— Ryan Jones