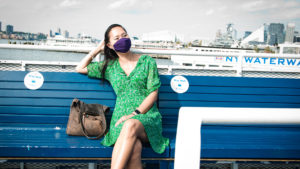 In this most unconventional of presidential election years, unfolding with so few of the traditional trappings of the campaign trail, the elections editor at The Wall Street Journal is an 18-year newspaper veteran who cut her journalistic teeth two decades ago while a reporter and editor at The Signal.
Josée Rose '02 coordinates the creation of election-oriented storytelling formats and news products that are disseminated across the WSJ's multiple online platforms. In the past year alone, Rose and her team have launched a new elections calendar, an elections and business newsletter, and a live event question-and-answer tool while revamping WSJ's live coverage blog. "My role in a way is a project manager," Rose says. "I work closely with teams in Washington, D.C., and New York and help make sure everyone is talking to each other."
Of course, that was easier to do before Rose and her colleagues started working from home — she lives in Hoboken — due to the coronavirus outbreak. "The pandemic has changed the cadence of everything we're doing," Rose says. "You lose a little something not being able to walk up to people."
Meanwhile, reporters have had to adapt to a presidential campaign marked by a dearth of public appearances by the leading candidates and virtual party conventions. Despite the unprecedented circumstances, Rose says, WSJ continues to explore the most important issues of the day and staffers still rely on basic news-reporting protocols.
"They'll still be covering big themes of the Democratic or Republican party as per usual, and the speeches, which will be streamed online, but there's no interviews on the sidelines," she says, "because there aren't any sidelines. But the way we cover news never changes. We know it's important to make sure all sides are told and fairly represented. We are aware of it, we're constantly reminded of it, and we strive to achieve it."
An English major with a concentration in journalism, Rose went to work for the WSJ just two weeks after graduating, and she was not alone. At one point, she recalls, at least half a dozen TCNJ colleagues went straight from campus to the company. Nearly 20 years later, Rose and three of her fellow Signal staffers — Jonathan Vuocolo '03, Meredith D'Agnolo '04, and Amanda Harris Falls '04 — remain.
At The Signal, Rose served as sports editor, managing editor, and, in her final semester, editor in chief. She wrote and edited stories with global implications, among them the 9/11 terrorist attacks and, four months later, the murder of WSJ reporter Daniel Pearl. In the classroom, she fell under the journalistic sway of professor Kim Pearson, who recalls Rose as a wise-beyond-her-years presence at The Signal.
"Leading election coverage for The Wall Street Journal at a time like this has got to be a really fraught challenge," Pearson says. "And at the same time I can't think of anybody who could be more up to that challenge than Josée."
---
— Christopher Hann for TCNJ Magazine