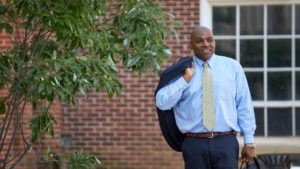 James Felton has dedicated his career to diversity work in higher education. Influenced by his grandmother, who bought him his first book, a friend with a disability, and his experience as one of the few people of color at a predominantly white college, he's poised to lead the The College of New Jersey as Vice President of Inclusive Excellence. Felton sat down with us to talk about his plans for making TCNJ a place for everyone.
TCNJ Magazine: What is Inclusive Excellence?
James Felton: The educational community has policies, practices, and procedures that may be inclusive for some but exclusionary for others. Inclusive excellence is a framework to correct and revise those practices so that we're really thinking about the success of everyone at the institution. So it's ongoing and active engagement with diversity, equity, and inclusion.
TM: Many people think of diversity as race, but is it more than that?
JF: Absolutely. There's been a progression of diversity in higher education. In the '60s, diversity was really about addressing the under representation of Black and Brown people at colleges. The scope then expanded to affirmative action, equal employment opportunity, and other social identity groups including gender, identity expression, veteran status, disability, international, and religion. That moved us into this 21st century notion of diversity, which is really looking at coalition building and using the skills and life experiences of individuals to help advance the institution. We're not just looking at what we offer to certain populations, but rather what populations offer to the learning and working environment overall.
TM: Walk us through how you work to build a diverse and equitable environment on campus.
JF: It's everyone's work, right? This can't sit on just a few people's laps. People need to see themselves being a part of, and contributors to, this work. I'm connecting with TCNJ community members, to hear their stories — to provide context and direction for the work that needs to be done. We're expanding what we're calling affinity groups or social identity groups on campus. For example, an accessibility resource center advisory, an LGBTQIA+ group for our faculty and staff, and continued support for the minority executive council. We want to provide spaces for people to express who they are. We've been working with our sororities and fraternities and our student athletes on
campus. When we think about traditional student organizations for inclusion those usually aren't ones that come up. Faculty needs to be a part of this, too. How does their expertise and scholarship lend itself to this work and how can we connect what's happening in the classroom outside of the classroom? And, given the current events around Black Lives Matter and the racial hostility in our nation, we are looking to become an anti-racist institution. So we need to discuss what that means and develop a set of principles to supplant TCNJ in that work.
TM: Some TCNJ students who feel marginalized are turning to social media to talk about the exclusion and discrimination they have faced here. What have you seen on these accounts and does it worry you?
JF: We don't know who the authors or the administrators of those sites are. But we know that they're collective voices of experiences that people have had at the college. Some of those stories are heartbreaking in terms of folks never really feeling a part of the community and the microaggressions that they experienced from peers, from employees, and from local community members. People need to have outlets or safe spaces where they can voice their pain, their frustrations. That's not in opposition to our work. I see it as informing us about the work that needs to be done.
TM: What are you doing to address these stories?
JF: The only way we can respond is if people go through a formal process for addressing issues of bias and discrimination. And that's through the Bias Education Support Team. We want them to report, we want to hear those stories, we want to offer assistance and support where we can. That's not to say that we can't address it. We have programmatic efforts to engage students, faculty, and staff around this — here are the things that people are reporting, or here are the things that we've heard have happened.
TM: Some say the campus has to get comfortable with being uncomfortable in order to experience real change.
JF: Diversity is not about sameness. I like to practice the platinum rule: treat others the way they wish to be treated. And that means we have to be as uncomfortable as those folks are in their daily lives. We can't run away from that when it gets to be too much for us. Some people don't have the luxury of getting to run away from their issues. And so you have to hold space with folks in order to empathize as well as sympathize with their social and lived experiences.
TM: It sounds like administration and student activists want to achieve the same thing. How do we move from mission to action?
JF: You've got to bring people together, create a sense of community and engagement as the first step. And then work from there. When folks say they want to opt in, figure out where they're most needed and how they can contribute. But I don't think we have a right to ask for patience anymore.
TM: How do we know when the work is complete? When is your job no longer needed?
JF: When our demographics in terms of employee workforce and our student population mirrors the demographics of New Jersey. And we'll know when there's not a need for Instagram pages, when people can engage in meaningful and authentic dialogue on campus and have respectful conversations, and people are listening and responding to the concerns that are being addressed.
---
— Interview by Kara Pothier for TCNJ Magazine