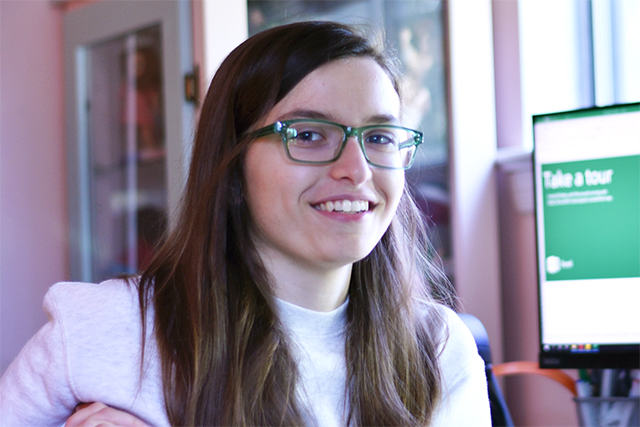 Nina Navazio '21 spent last summer interning at Microsoft from the comforts of her home in Bergen County, New Jersey, tinkering under-the-hood of the Microsoft Office Suite.
"I worked specifically on Excel, which was a dream because I unironically love Excel," she says.
Her dreams didn't stop at spreadsheets, though. Navazio ended the internship with the best souvenir ever: a full-time job offer from Microsoft lined up after she graduates in May 2021.
As a double-major in English and interactive multimedia, Navazio combined her love of language with her technical expertise to tackle her internship projects that involved user interface design — the place where the human meets the machine.
Her projects encompassed working on little details like the words that pop up when a person hovers a mouse over a button in a software application, all the way up to bigger processes like workflows and support articles.
"Writing for Excel is the perfect intersection of all of my disciplines, and it was something that I had no idea existed before I applied," she says.
She'll continue her work refining the user experience for new features on Microsoft products when she starts her full-time position as a content publisher at the company's base in Redmond, Washington (COVID permitting) after she graduates.
"I was born and raised in New Jersey, I've lived in the same house for 21 years now, in the same bedroom, so I think it would be fun to live somewhere else," she says.
Until then, Navazio will finish out her senior year at the college and continue working behind the scenes at WTSR 91.3 FM, TCNJ's student-run radio station, where she's been station manager for the past two years. In fact, it was the radio station's general manager, Kevin Potucek, who connected her to an alum at Microsoft who helped her apply for the internship.
"WTSR really gave me a place to practice being organized and working as part of a bigger team to keep the wheels turning, so I really tried to hone skills like leadership and event planning through my work there," she says.
---
— Julia Meehan '22 and Emily W. Dodd '03