Wait your turn, fall semester — TCNJ's Mentored Undergraduate Summer Experience is still in full swing, with students and faculty across disciplines working in tandem to conduct research, create works of art, and empower themselves and others.
This week, we're highlighting another four projects happening on campus: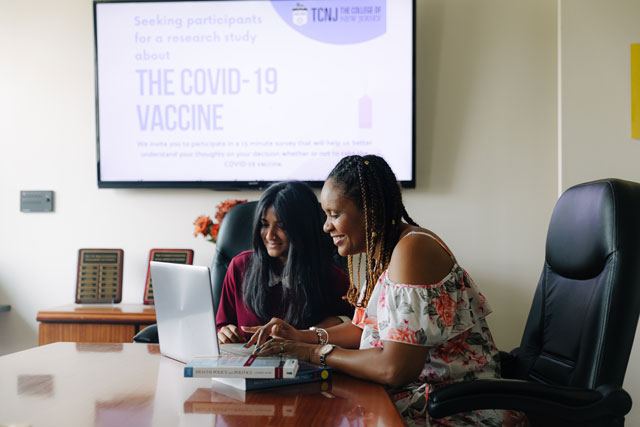 PROJECT Vaccine hesitancy in the Black community
FACULTY Natasha Patterson, public health
STUDENT Alekhya Madiraju '22
WIDE SHOT While there are some general fears among all groups about getting the vaccine, there seems to be deep-rooted fears within the African American community, says Patterson. Because that population has higher numbers of cases and deaths, and because variants of the virus are impacting those who are not vaccinated, it is important to reach the Black community to address concerns and improve vaccination rates.
PINPOINT Patterson and Madiraju are investigating African Americans' attitudes about the COVID-19 vaccine and how messaging may or may not influence their decision to get vaccinated. They've developed a survey instrument to distribute and are facilitating a focus group on the topic, guided by the survey results. Their goal is to make recommendations for future health education and health promotion initiatives. "We hope to learn about the true concerns African Americans have about the vaccine," Patterons says. "We also hope to get more insights into how the current messages about the vaccine may or may not influence the decision to get it."
PROGNOSIS "As a hopeful physician, this kind of work can help me understand community needs, and adjust the ways that I interact with my future patients accordingly," says Madiraju.
---
PROJECT Reorchestrating George Antheil's A Jazz Symphony
FACULTY Eric Laprade, music
STUDENT Terence Odonkor '22
A JAZZ MAN Laprade and Odonkor are collaborating to create a chamber wind ensemble transcription of George Antheil's 1925 composition, "A Jazz Symphony." They're taking the original work, which was scored for a large orchestra, and are re-scoring it for a chamber wind ensemble group, while exploring topics of orchestration, timbre, music engraving, and writing for winds. With a goal to have most of the project complete by the end of the summer, they hope to have it performed by the TCNJ Wind Ensemble and, eventually, published.
LOCAL CONNECTION George Antheil was born (in 1900) and raised in Trenton, New Jersey.
---
PROJECT Contemporary evolution in recently-established populations of threespine stickleback fish
FACULTY Matthew Wund, biology
STUDENTS Lucia Castaneda '22 and Amechelle Leander '24
SOMETHING FISHY Using Alaskan populations of threespine stickleback fish, this team is studying how species adapt to novel environments and how individual changes in behavior and development work together with genetic, evolutionary changes to make that adaptation possible. "My students are studying morphological and behavioral changes in several freshwater stickleback populations that have recently been established from marine colonists," says Wund. "The lakes in question formed within the past 30–70 years due to the retreat of a glacier and the construction of a highway and railroad near the ocean. All of these young lakes have a connection to the ocean, and marine stickleback move in and colonize."
REELING IT IN These budding biologists are looking to see whether the fish's anatomy and behavior change as a result of adapting to freshwater lake environments, and whether those changes are due to non-genetic changes to individual development, genetic evolution, or a combination of both factors.
---
PROJECT (Re)Turn to the African girl: East African girlhood studies book project
FACULTY Marla Jaksch, women's, gender, and sexuality studies
STUDENTS Saray Ramos '22 and Rehat Singh '23
UNCOVERING STORIES They're working on a book project about African girlhoods through the framework of African feminisms that centers around girls agency, empowerment, and resilience. This project includes expanding understandings of girlhoods historically, as well as to consider trans and gender non-conforming girlhoods, girls with disabilities, and intersectional ethnicities.
MAKING THEIR MARK The students are also learning about feminist interview techniques, informed consent, feminist ethics, and will conduct video interviews with participants from two girls organizations in Kenya. The goal of the interviews is to have girls be the authors and co-authors of their own girlhoods, rather than only be the objects of other sources of girlhood.
Read last week's MUSE highlights, and check back next week for another installment of summer projects.
---