Spread out on picnic blankets on the grass behind the Arts and Interactive Multimedia Building, the TCNJ community enjoyed live music and fresh air at the fall 2021 WTSR Underground event.
Underground, which gets its name from the Kendall Hall basement where it is traditionally held, was hosted outside this year to increase COVID safety on campus.
The biannual event hosted by 91.3 FM WTSR, the college's student-run radio station, was put on pause during remote instruction. The last event was held in March 2020, shortly before the college went virtual.
"It felt great to be back on campus dancing to the music," said Anthony Barreto, a junior interactive multimedia major. "Plus, you definitely can't have a mosh pit over Zoom."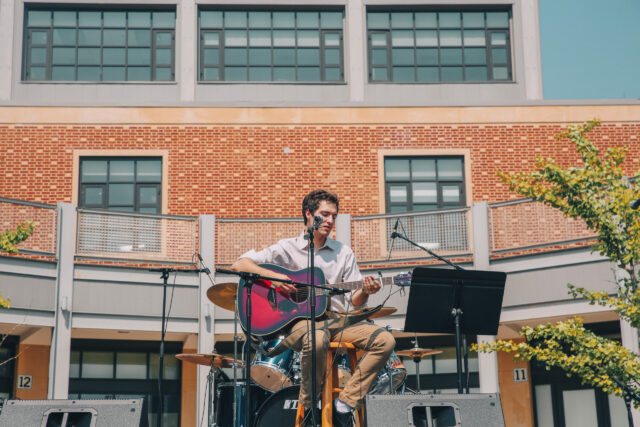 Performers included TCNJ alum and blues soloist Anthony Garcia, funk-rock band The Post Office, Philadelphia-based indie-rock band Goings, soloist Hana Bryanne, and the eclectic rock outfit This Holy Rodeo.
"The outdoor setting definitely added a challenge," said WTSR's social media and web director Haley Wright, a junior interactive multimedia major, who pitched in one of the many sets of hands that it took to move equipment to the al fresco venue.
"It was my first time experiencing Underground because we didn't have one while everything was virtual, but I had so much fun and can't wait for the next one," she said.
A replay of the event can be found on the WTSR Underground Youtube Channel. Follow WTSR on Instagram for updates and programming info.
---
— Julia Meehan '22