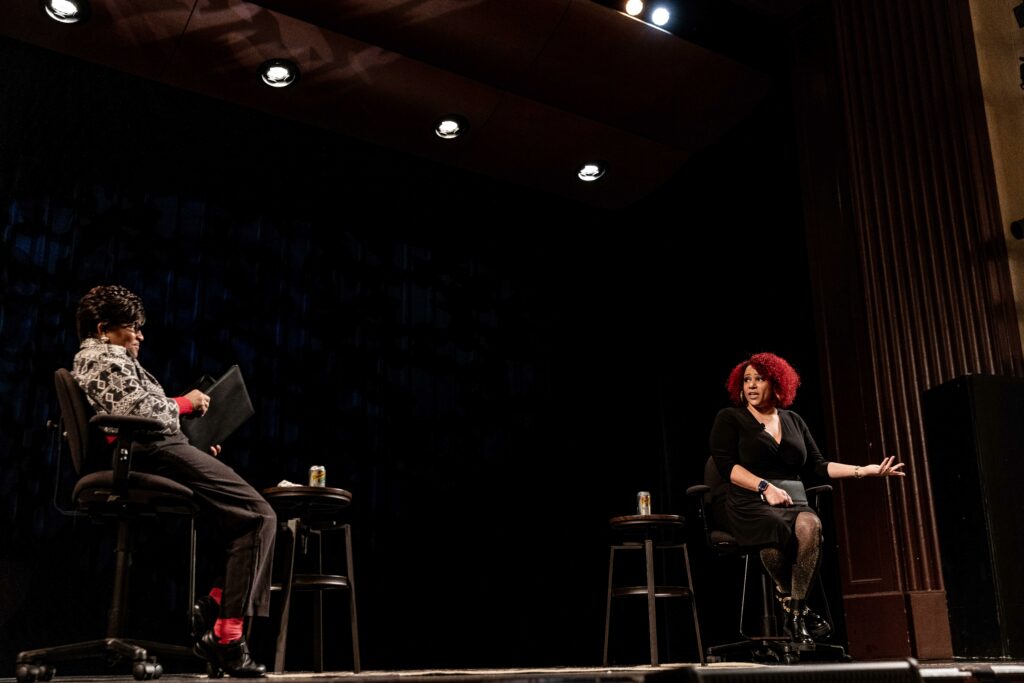 As a journalist, Nikole Hannah-Jones says there's an innate skepticism that comes with the job.
"If your mother says she loves you, check it out," she joked on stage to a packed Kendall Hall.
Hannah-Jones, staff writer at New York Times Magazine and editor of The 1619 Project, has spent her career investigating racial inequality and injustice.
On Thursday, March 3, she joined the TCNJ community for a Q&A session moderated by journalism professor Kim Pearson. A journalist interviewing a journalist, Pearson posed a series of questions that at times genuinely surprised the Pulitzer Prize winner.
"I've never been asked that question before," Hannah-Jones said in response to the first question asked: What do you do as an investigative journalist?
Here is some of what Nikole Hannah-Jones had to say about:
… investigative journalism:
"An investigative journalist is just a journalist who gets a lot more time to work on projects," she quipped.
Hannah-Jones sees the investigative field as the highest calling in journalism — but also as holding the highest stakes. It's expensive and time consuming, but it's the way she wanted to work toward a more just and fair society.
"It is the journalism that seeks to hold power accountable, that unearths what powerful people don't want known," she explained, citing Watergate, and Ida B. Wells' (a Black woman, writer, and suffragist who used her skills to uncover and share the conditions of African Americans in the South) anti-lynching campaigns as examples.
"This is the type of journalism that digs, that really tries to expose. You're uncovering things that people would rather you not report on, and you're reporting against power.
… her Twitter namesake Ida B. Wells and her values as a journalist:
When asked what drew her to investigative journalism, Hannah-Jones (whose Twitter handle is @IdaBaeWells) quoted Ida B. Wells:
"The way to right wrongs is to shine the light of truth upon them."
Hannah-Jones touted Wells as the original intersectionalist activist and an inspirational innovator of investigative journalism techniques. In 2016, Hannah-Jones co-founded the Ida B. Wells Society for Investigative Reporting, which seeks to increase the number of reporters and editors of color.
In 2020, Wells was awarded a posthumous Pulitzer Prize on the same day Hannah-Jones received her Pulitzer for the 1619 Project. "I cried like a baby," Hannah-Jones said.
… the role historical research plays in her reporting:
With a degree in history and African American studies from Notre Dame, Hannah-Jones's first love has always been history.
As a journalist, she understood that history helped her make sense of her world and that it could have a similar effect for those reading her work, particularly around issues of race and equality.
"I couldn't just write about why Black people are still the most segregated group of Americans today if I don't go back and show you how the architecture intentionally created segregation," she said. Rather, Hannah-Jones delves into both the history (the study of event or time period) and the historiography (the study of how the history was written, who wrote it, and the factors that influenced how it was written) in order to present the evidence the readers need to truly understand the issues at hand.
"If I'm going to write about school segregation or housing segregation or policing, I'm going to build the architecture for you and I'm not going to presume that you have any knowledge, because most people don't."
---
—Emily W. Dodd '03