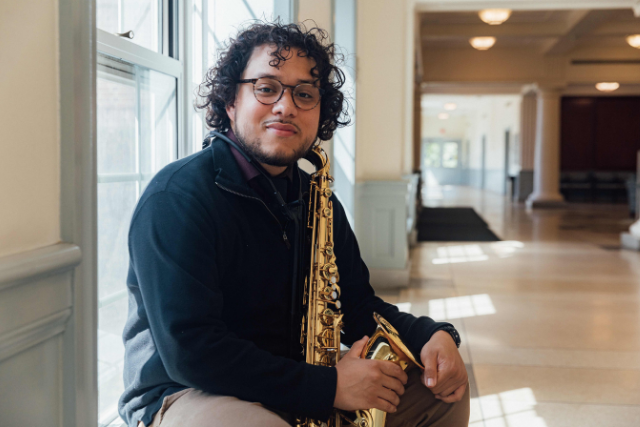 TCNJ music education major Cesar Gonzalez has been named a 2022 Presser Scholar and was presented with the award during the TCNJ Wind Ensemble concert on Saturday, April 30.
He was nominated for the award by the faculty of the TCNJ department of music.
The Presser Scholarship is given to an undergraduate music major at the end of their junior year. It is designed to encourage and support the education of a music student who exemplifies high academic accomplishment, leadership, and citizenship. The $4,000 award may be applied towards expenses normally incurred in pursuit of a degree or for additional enrichment and musical advancement opportunities.
Gonzalez, a saxophone player from Trenton, started playing the clarinet in sixth grade and developed a deeper love for not only music, but also what it represents on a larger scale, when he first heard the album 2014 Forest Hills Drive by J. Cole.
"Hearing that album really sent my love of music, and hip hop specifically, to another level," he said. "Hip hop is the music that defines me and my culture and my people. It's the music I can relate to from my own life."
Beyond hip hop, Gonzalez, a Trenton Central High School graduate, also has appreciation for other genres of music, particularly jazz.
"Jazz is great and the biggest thing I love about it is the rich history and where it came from," he said. "That someone told black musicians, 'no you can't play classical music' and they would not let that stop them. They kept on going."
Once he graduates next year, Gonzalez says he plans to return to his hometown and inspire students to find their musical passions.
"My goal when I leave TCNJ is to get to work in Trenton schools," he said. "I want to get right back into the district and help other students who are like me. I want to inspire them to reach for their dreams."
Faculty members who have worked with Gonzalez are confident he will reach his goal. In the process, they predict that he will thrive and have a positive impact on those he encounters.
"I have rarely come across a student who is as wise beyond his years as Cesar," said Kathy Mitchell, saxophone studio instructor at TCNJ. "He has been a great leader and will continue to do so as a mentor, educator, and artist within his community. Cesar is fiercely dedicated to ideals of equality, loyalty, and honesty."
"Cesar has truly been the most determined student that I've ever worked with," added Gary Fienberg, instructor of the TCNJ Jazz Band. "I am confident that in his future as a music teacher, Cesar will take the best of what he has learned at TCNJ, burnish it in his selfless way, and give it back to the community in ways that we will all admire."
In addition to the community that inspired him in Trenton, Gonzalez found inspiration being part of TCNJ's Educational Opportunity Fund program where he works as a program assistant in the summers.
"If not for the EOF program, I would not have started on the right foot here at the college," he said. "I would not have been equipped for the work, which has been challenging at times. I want to help incoming EOF students that I work with in the summer be prepared for what is coming their way when they get to college."
Gonzalez hopes that those that helped him on his journey can share in the accomplishment of becoming a Presser Scholar.
"Everyone keeps telling me that I deserve this award and I humbly accept that," he said. "But I very much appreciate that it took a village to get me here. It's not just going to me, it's going to my family, my friends, the EOF program, my music teachers— it goes to all the people that truly believed in me."
---
— Luke Sacks