If you've ever gazed up at the Green Hall clock tower and felt that time stood still as the electronic carillon reverberated with the college's alma mater, you're certainly not alone.
Perhaps you were transported by the moment. But more likely, you were probably looking up on one of many days when the 1930s-era clock had stopped working, its brass and copper mechanisms worn out after decades of service.
Time marches on now that a $16,995 project to replace those inner workings and upgrade the carillon is complete, and no one could be happier than Alex Novak, supervisor of TCNJ's electrical shop. It was Novak's responsibility to coax the finicky clock back on schedule or, when needed, call for reinforcements from an outside contractor.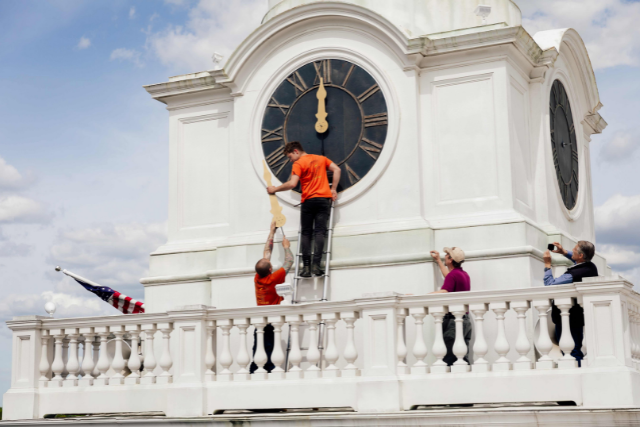 "This lifts a big metal weight off my shoulders," Novak said, noting that the clock had been a problem since before he came to TCNJ in 2005 and that he'd often respond to multiple calls a day to fix the hands of time. Keeping the clock ticking is a matter of pride, Novak said. "I care about this because this is my college."
An earlier rehab replaced the clockface's original wooden hands, sodden and sluggish after decades of storms, with aluminum ones that better withstand the elements. Those were removed — as passersby may have noticed — as part of this year's overhaul, which was long-planned and anticipated, Novak said.
The refurbished clock promises to be virtually maintenance free — its timekeeping synced to a GPS and controlled remotely — and the recordings of the carillon will be enhanced to sound more like the real bells of London's Big Ben, Novak said.
"These things are so reliable and very power efficient too,' said Ken Neill, of Neill Carillon Service, which has provided clock maintenance to the college for more than two decades. "I'm very happy to be part of this project," said Neill, known to the denizens of Green Hall as "Ken the clock man."
In addition to the alma mater, the carillon plays the recognizable Westminster Quarters (you'll know it when you hear it, listen here) every 15 minutes and, on occasion, classics like God Bless America.
The project may seem small in the scheme of things but is significant for the central role that Green Hall — an administrative hub that was the college's first academic building — plays in campus life and college history.
Heather Fehn ​​'94, '96 MA, chief of staff to TCNJ President Kathryn Foster and secretary to the board of trustees, keeps the original wooden clock hands in a shadow box in her office in Green Hall.
"The bell tower is one of the historically significant features of the campus and hearing the alma mater at 10 a.m. and 2 p.m. is one of those things – when you're paying attention or in earshot of it – it's kind of a nice reminder of what we're doing here," she said.
---
— Patricia Alex