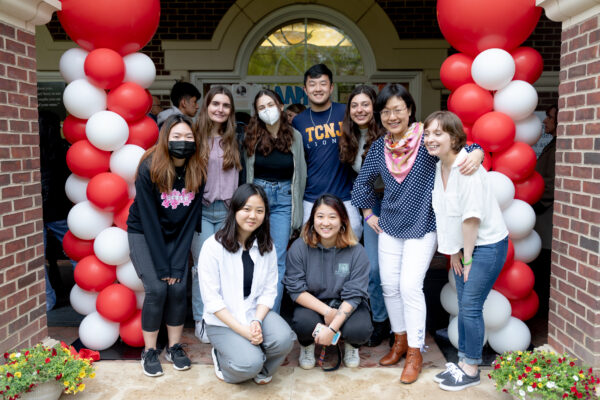 This spring, Yifeng Hu, an associate professor of communication studies, and a team of eight students made TCNJ history as they brought the school's first Asian American Pacific Islander advocacy campaign to campus, with a series of interactive activities leading up to May's AAPI Heritage Month.
According to Hu, 2022 is an important year to launch such a campaign, as it marks the anniversary of a number of AAPI hate crimes, including the death of Vincent Chin, who was killed in Detroit 40 years ago, and the first anniversary of the Atlanta spa shooting. But the advocacy team wanted to do more than just commemorate events like these. Instead, they sought to raise awareness about AAPI history and contributions, promote representation and visibility, and combat hate and stereotypes.
"It was important for us to really involve people with this campaign," Hu says. "We wanted to create events and activities that were engaging, and we wanted to interact with the community."
To that end, the campaign kicked off with a street interview where students were asked to name famous Asian Americans. Many struggled to do so, and after their on-camera appearance, reflected on why that was the case. The video's release was followed up with a #NotYourStereotype photo exhibit, which set out to tell people's stories beyond typical AAPI stereotypes. The campaign's activities concluded in early May, with an outdoor gallery showcasing AAPI history, figures, and experiences through art, as well as a mural the TCNJ students, faculty, and staff signed as a pledge of commitment to stand with the AAPI community.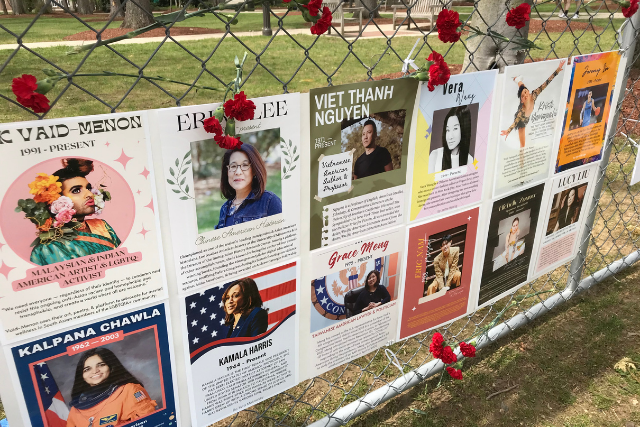 Each student had the opportunity to lead a project for the campaign. For Nick Textores '23, a key takeaway was realizing the transformative power of listening.
"To have my own photo exhibit as a photographer is one thing, but to make an impact in the community in raising awareness and combating stereotypes made the project that much more rewarding," he said. "To listen to so many amazing and interesting stories that the participants of my project shared really touched me, and I could understand why and how certain stereotypes affected their way of living."
Jaime Hennig '22 hopes that those who interacted with the AAPI activities have come away more educated.
"I hope they were surprised to learn about notable AAPI figures and contributions and some of the injustices they have faced," she says. "But what I truly hope is that these individuals will start to seek out this information on their own and become self-educated on important topics such as this."
With some of the campaign's students set to graduate, many say their involvement was a highlight of their time at TCNJ. As for Hu, she's already making plans for next year: she has received some grant opportunities and hopes to invite guest speakers for the 2023 event.
"I hope this campaign not only amplified AAPI voices on campus, but empowered AAPI members to speak up and speak out," says Hu. "If a part of your community feels excluded or not seen, that doesn't make for a strong community. This made TCNJ stronger."
---
— Kelley Freund