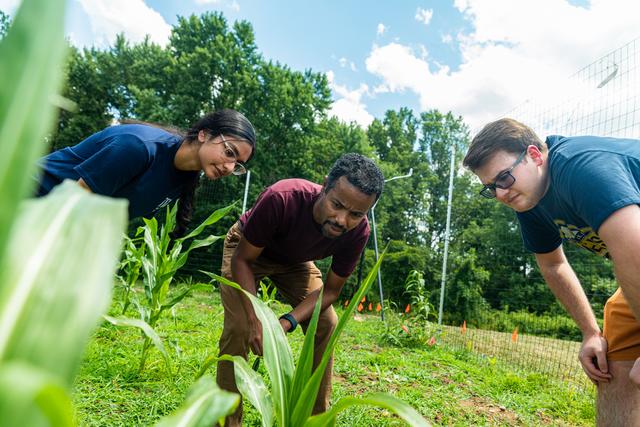 Nothing beats sweet Jersey corn in the summertime. But there's no time for picnicking over at the small corn field by Green Lane Fields, where students and faculty in TCNJ's biology department are researching the resiliency of one of the world's most important crops.
Leeann Thornton, professor of biology, is directing research into the defenses corn has against environmental stressors like heat, drought, and soil salinity. In a separate lab, students led by Associate Professor Melkamu Woldemariam are studying how the crop defends itself against insects and pests.
"The big picture question in our study is food security," biology major MaryAngela Senter '23 said. "Climate change has a large impact on food production."
Under Thornton's direction, Senter is working alongside fellow biology major Shreya Ranadive '23 on a corn genetics project funded by the U.S. Department of Agriculture National Institute of Food and Agriculture, testing genes for their function in helping plants acclimate to environmental stresses.
"We're trying to see what kind of stresses are causing a problem and what is going on in its biochemistry to help withstand them," Ranadive said. The team plants corn, stresses it out (e.g., drought, extreme temperatures), and then looks at how its gene expression changes.
Also in Thornton's lab is biology major Ellie Kreider '25. Funded by the Sherman Fairchild Scholars program, she's studying a gene that is induced by stress to slow plant growth.
"Just in last three years we've (globally) lost four percent of the corn crop to climate change," Kreider explained. "It is the number one crop in America and a very influential crop internationally as well."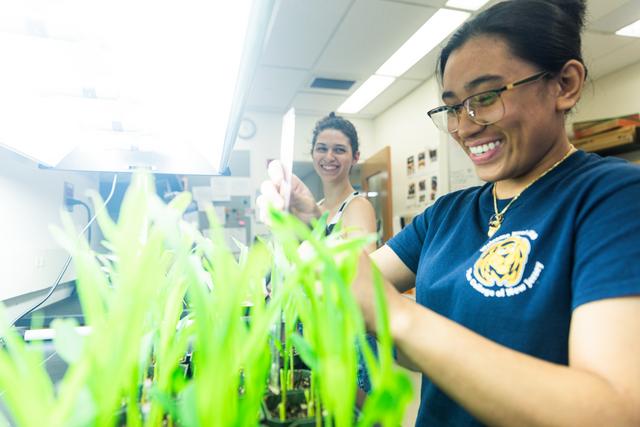 In Woldemariam's lab hundreds of corn plants are being grown in the field, the lab, and the greenhouse. Biology majors Kruti Patel '25 and Ryan Pagnillo '23 are working to identify novel genes in corn that orchestrate defense responses to insects. Patel is also funded by the Sherman Fairchild Scholars program.
"If the genetic mechanism is understood, our goal is to use conventional breeding to make corn more resistant to pests," Woldemariam said. The process is not genetic modification, but rather relies on conventional breeding, he said, noting that there are myriad varieties of corn that have been bred and inbred for generations.
The undergraduates are working with counterparts at the Boyce Thompson Institute at Cornell University, funded by part of the $1 million in grants Woldemariam's lab has received from the National Science Foundation and the USDA National Institute of Food and Agriculture.
"Corn is the number one cultivated crop species in the world. It's used for food, feed, and energy sources, which means that anything that makes the corn variety a little more defensive and will increase yield is a benefit to a majority of us human beings," Woldemariam said.
---
—Patricia Alex