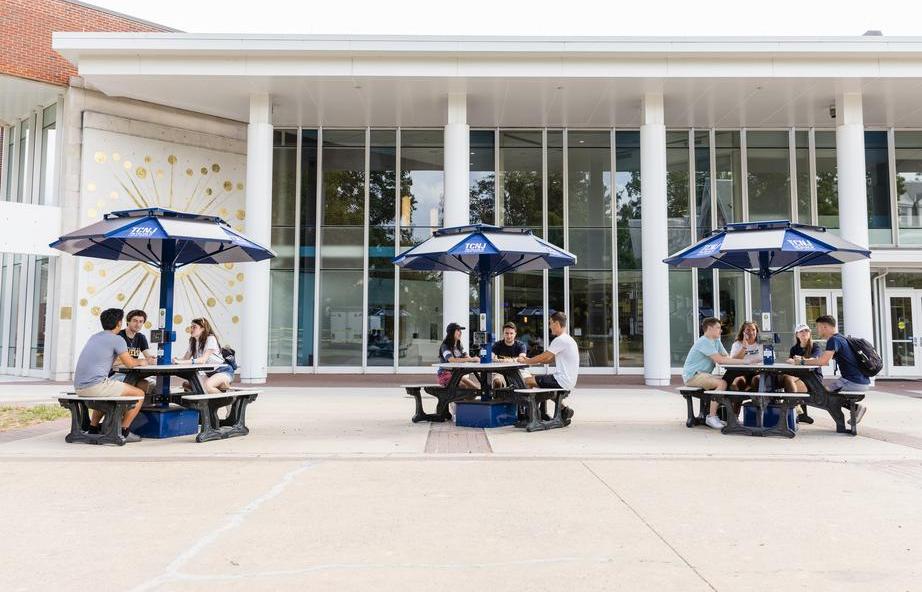 It took no time at all for new and returning TCNJ students to occupy the new picnic tables between Brower Student Center and Green lawn — though the project to bring them to campus was over three years in the making.
The six brand new tables are more than a new spot to study or relax with friends between classes. They're solar-powered charging stations and WiFi hotspots called Solar Power-Doks, manufactured by Enerfusion, Inc.
Bringing them to TCNJ was a team effort led by Student Affairs staffers Kelly Hennessy, assistant vice president for student services; Kiley Cinelli, associate director of the Brower Student Center; and Mark Mehler, executive director of financial affairs.
"I submitted a request through the Environmental Sustainability Council at the end of 2019," Cinelli, said. "Enerfusion was scheduled to do a site visit in mid-March 2020." But we know what happened next.
After more than a year's hiatus due to COVID-19, the project was revived in summer 2021 only to experience production and shipping delays due to remnant and on-going supply chain challenges.
But now the tables are home sweet home and already feeling the love from the TCNJ community.
"I love that TCNJ has offered a new space for us to meet with friends in between classes," psychology major Caitlin Mbuakoto '23 said.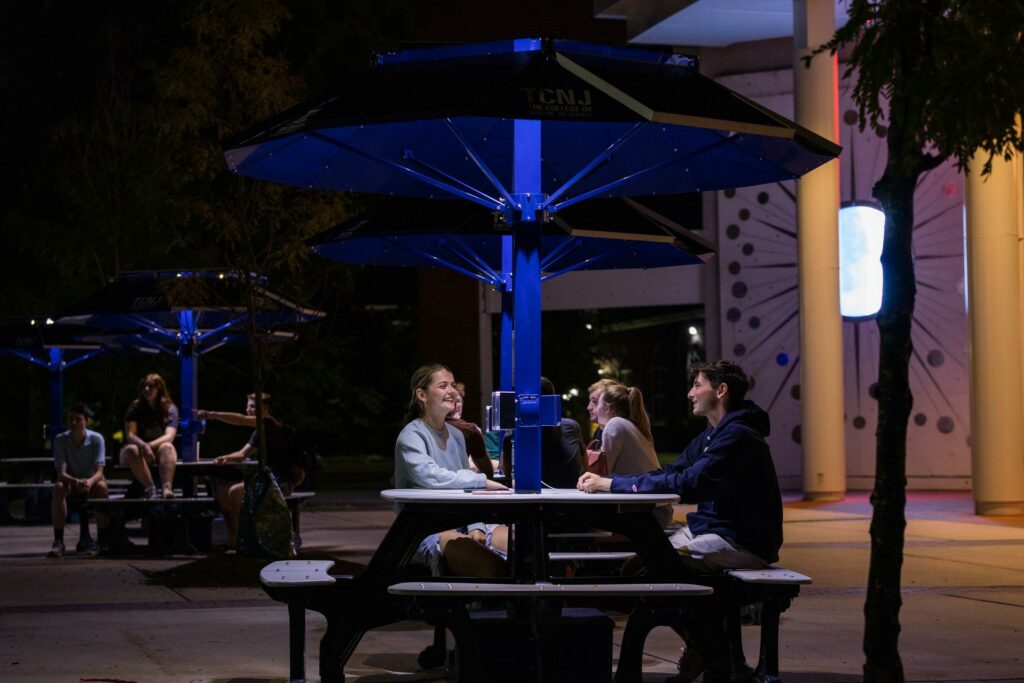 Each table generates and stores electricity that powers two traditional GFCI outlets, four USB-A power outlets, and two USB-C power outlets and charger ports, even when the sun goes down. Ambient lighting is activated at dusk, and after dark, the canopies provide high-intensity, push-button LED lighting.
For those who prefer a wireless experience, each table provides four Qi-enabled wireless charging locations on the tabletop surface.
"I love the wireless charging features on the tables. It's easy for me to charge my phone whenever I need it," psychology major Sarah Kudron '23 said. According to Enerfusion's website, the wireless tabletop can charge an iPhone 11 from zero to 50% in 30 minutes.
The tables are constructed from poly-recycled plastic materials, so in addition to providing self-sustaining green energy through solar, each table keeps nearly 7,250 plastic water bottles out of the landfill — that's more than 43,000 plastic water bottles in all six tables!
And that's how the blue and gold keeps getting greener!
---
— Emily W. Dodd '03