Not long after Tracy Perron started teaching at TCNJ, she realized that students in her nursing classes and those enrolled in the college's Career and Community Studies program for students with intellectual disabilities had things to learn from one another.
"I thought they needed to learn to interact," said Perron, who chairs the Nursing Department. And so, Health Break was born. Through this nursing elective, students from both programs collaborate on activities and programming related to health and life skills, allowing everyone the opportunity to interact in a non-medical setting.
Throughout the semester there are sessions promoting self-esteem, teamwork, physical activities, coping techniques, social skills and stress reduction, among others. Nursing students get experience with a population they will likely need to serve in their careers, and the CCS students have an opportunity to better integrate with peers outside their program and more fully engage in campus life.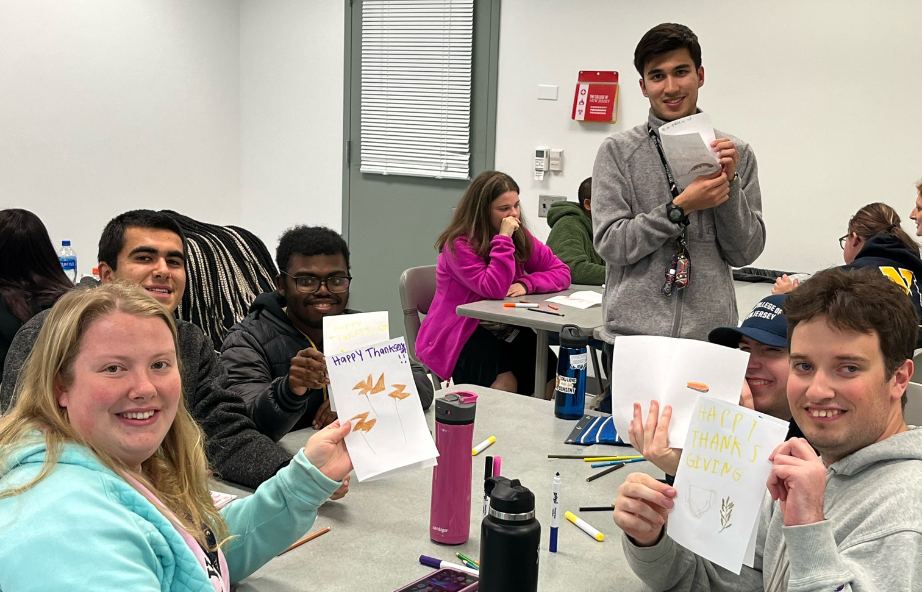 "It makes socialization a little easier for some of the CCS students," said Kelsey Heaney '24, a CCS student with a traumatic brain injury that caused delays in cognitive and motor skills. "It puts the whole campus together."
There are about 40 students enrolled in CCS who have a range of documented intellectual disabilities including autism and Down Syndrome.
The program emphasizes life skills and career readiness said Victoria Swift '15, CCS student life coordinator. CCS students live on campus, take TCNJ classes that are modified to the appropriate level for students, participate in work-study jobs beginning in junior year and off-campus internships as seniors.
"Our program is very much about inclusion, so Health Break is another opportunity for our students to interact with same-age neurotypical peers," Swift said. She said it's beneficial for the CCS students to realize that the nursing students experience some of the same stressors they do in attending college.
Those with disabilities often have reported higher levels of dissatisfaction with the personal interactions they've had in healthcare settings, research has shown. The course is an effort to change that in educating future nurses.
"It's a unique experience that can't be taught in classrooms or books," said nursing student Chase Eisenberg '24 who participated last year and is still in touch with her CCS peers she met through the course. "It opened up my eyes to how we, as nurses, should deal with individuals who have intellectual and emotional disabilities, and how to best to care for them."
---
— Patricia Alex