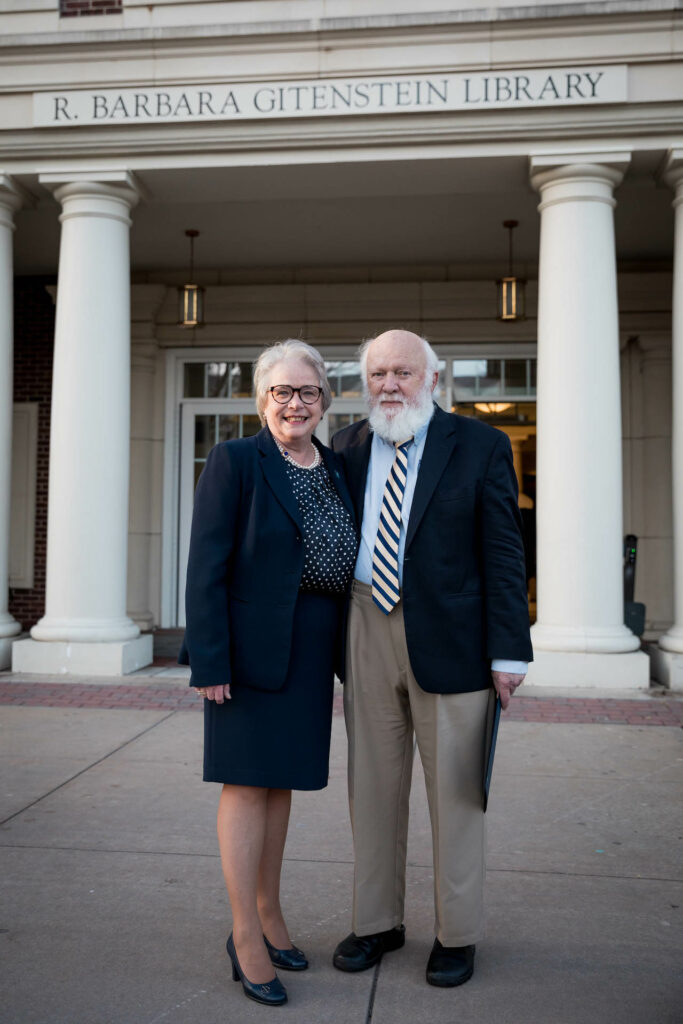 Barbara Gitenstein, the first woman to serve as president of The College of New Jersey, and husband Donald Hart, a retired professor of philosophy, have gifted $1 million to TCNJ to create two endowments that will benefit the work and research of both students and faculty.
The R. Barbara Gitenstein Library, which was renamed in 2018 in recognition of her 19 years as president, will receive $750,000 through the establishment of the R. Barbara Gitenstein-Donald Hart Library Endowment. The remaining $250,000 will endow the R. Barbara Gitenstein-Donald Hart Faculty Early Career Prize, which will support the scholarship of junior faculty.
"What makes TCNJ exceptional is the interaction between faculty and students and the commitment to meaningful mentored research across all disciplines," Gitenstein said. "With this gift, we aim to further enhance the institution's commitment to the work of our students and faculty."
Gitenstein, who helped shepherd an academic transformation that emphasized high-impact educational practices like research- and writing-intensive courses in the curriculum, served as TCNJ's 15th president from January 1999 through June 2018, the third-longest tenure in the college's history.
"The on-going financial commitment to the college from its former leaders is a testament to this extraordinary community," said TCNJ President Kathryn A. Foster. "This generous gift from Barbara Gitenstein and Don Hart will pay dividends for our faculty and students for generations to come."
The library holds a special place in Gitenstein's heart, she said.
"The library was the first new facility constructed during my tenure," she said. "A library is the heart and soul of a campus, so it was important to us to create this fund to give the students and faculty every opportunity and resource in that space."
The R. Barbara Gitenstein-Donald Hart Faculty Early Career Prize Endowment Fund will provide necessary resources to enable junior faculty to develop long-term personal research or a creative program.
"Both of us cherished the time we spent on scholarly and creative endeavors and relish the ability to help others do the same," Gitenstein said.
This isn't the first time Gitenstein and Hart have given back to the college. A previous gift established the Gitenstein-Hart Sabbatical Prize in 2014 to provide additional financial resources to the faculty member or librarian taking a full-year sabbatical, thereby allowing the awardee to focus more deeply on scholarly work.
These endowments will be managed by The College of New Jersey Foundation, Inc., which was established in 1971 to encourage private gifts in support of the college. As a nonprofit, tax-exempt corporation, the foundation is empowered to solicit, receive, and administer gifts, grants, bequests, and trusts for the benefit of the college, its students, faculty, schools, departments, and programs. All private gifts from alumni, friends, private foundations, corporations, and other entities, for the benefit of The College of New Jersey, are received through the TCNJ Foundation.
---