Bella Mashanski '23 is a CODA – Child of Deaf Adults. She grew up speaking American Sign Language at home and saw firsthand the need for advocacy that surrounded the Deaf community.
"I'm part of the Deaf community, but I still do have privilege: I can hear," Mashanski says. "I want to be able to use that privilege to bring awareness to people's stories and give them the same opportunities I would be able to get."
At The College of New Jersey, Mashanski majors in communication studies with a focus on TV, radio, and film, finding classes and programs that inspired her and further honed her advocacy skills. With her love for filmmaking, she teamed up with classmates in a documentary production course to produce a documentary short titled, "Defining Deaf."
The project highlights the experiences of the local deaf community — especially deaf children and their education — and the need to find ways to make the world more accessible to them. It was not only near to her heart, but it also inspired her classmates. She brought her group to the Marie H. Katzenbach School for the Deaf in Ewing, not far from TCNJ's campus, to experience the culture firsthand.
"I saw how these experiences of being at the school really changed them," she says of her classmates. "Being in an environment with only all deaf individuals can be uncomfortable, but that's something that many deaf people experience every day."
Mashanski also brings Deaf culture to those who can't experience it firsthand, using social media to deliver her messages via pixels on the smallest of screens and raising awareness through content she creates (often with her parents!) and posts on her TikTok account that has nearly 145,000 followers and 7.4 million likes. Her videos range from glimpses into regular college life to answering questions and clearing up misconceptions about being deaf ("Can your parents drive?" "Can they write?") to a home video of her parents signing the "Happy Birthday" song to their family dog.
"I want to make the entertainment industry more accessible for the Deaf community, as well as encourage more accessibility for the Deaf community in general," she says.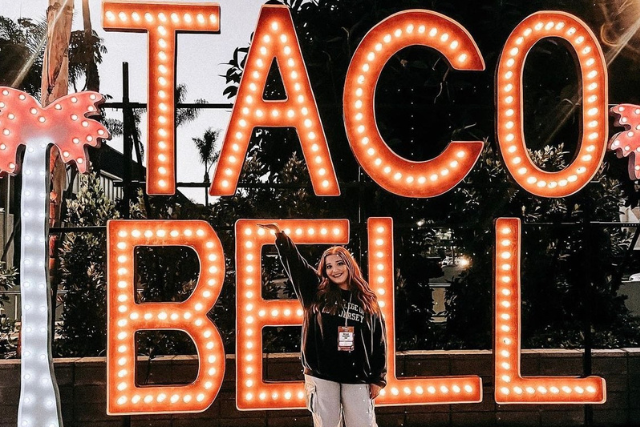 Mashanski's advocacy through entertainment — and the dedication and sparkle she brings to it — has earned her Taco Bell's $25,000 Live Más scholarship, a scholarship awarded to those who are passionate about creating a better future and making a positive impact on their communities, four times. And in addition to the scholarship funds, the program invited her to serve as a conference leader at Taco Bell's Summer of Creativity conference last July in San Diego, where she had yet another platform to speak about issues faced by members of the Deaf and Hard of Hearing communities.
And whatever comes next, Mashanski hopes to keep bringing eye-opening experiences to others.
---
— Emily Dodd '03 with reporting by Alexandra Marvar