The College of New Jersey's campus community continued its connection with Princeton House Behavioral Health patients by creating and sending cards bearing messages of love and encouragement for Valentine's Day.
The cards, which were created by students yesterday during an event at the Brower Student Center, were delivered last night by Eric Van Eck, recovery and prevention coordinator of the TCNJ Collegiate Recovery Program.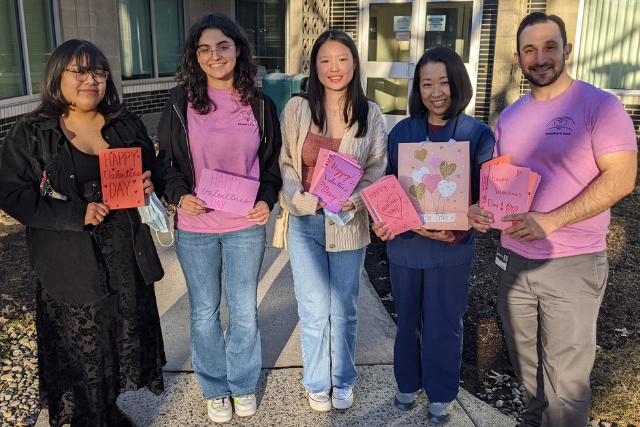 "Our campus community is proud to be of service to the patients and staff members at Penn Medicine Princeton House Behavioral Health," Van Eck said. "We want them to know that we are thinking about them and supporting them in their recovery journey."
TCNJ students sent cards last Thanksgiving and Valentine's Day as well and will continue to find ways to offer support to those in the hospital's recovery program.
"The cards we create send a message of love, which for many of these individuals may be something that is hard to come by," said Gianna Anselmo, a junior psychology major at the college. "When in the throes of mental health struggles, the world can feel dark and cold, but our cards aim to give hope to these individuals that they are worthy of love, appreciation, and healing. It acts as a mode for us as students to heal as well. When we are capable of sending hope and love to strangers, we are reminded that we ourselves are also worthy."
"Our patients are very grateful to receive these thoughtful cards," said Yuko Martin, director of allied clinical therapies at Princeton House. "Their faces brighten up as they read the messages of encouragement and support and know that someone out there is rooting for their recovery."
TCNJ's Collegiate Recovery Program is dedicated to providing comprehensive support to students in recovery. Full-time staff is located within Student Affairs: Health and Wellness. Dedicated space includes a residence hall for recovery housing as well as office space for administrative work, counseling sessions, and a late-night activities program.
Princeton House offers acute inpatient treatment — typically lasting seven to 10 days — for adults with a mental health or substance use disorder or both. The inpatient hospital has served central New Jersey since 1971. Intensive Outpatient and Partial Hospital services, including the Women's Program, are located in Princeton, Eatontown, Hamilton, Moorestown, and North Brunswick.
---
— Luke Sacks