There's a lot of serious training that goes into being a nurse: running an IV drip, drawing blood, checking vital signs. But a big component of the profession — how to compassionately and effectively communicate — can be challenging to practice in the classroom.
As part of an Immersive Soft Skills Education Grant from Bodyswaps and Meta Immersive Learning, nursing students at The College of New Jersey will be able to practice their bedside manner through a library of virtual reality resources.
"A lot of what we're seeing is that students, in general, have trouble communicating with each other and with patients," says Chelsea Lebo, coordinator of TCNJ's Simulation and Clinical Learning Resource Center. "We've been trying to implement different simulations to specifically address communication skills because it is such a vital part of any health care role."
TCNJ was one of 100 institutions worldwide to receive the grant, which also included two virtual reality headsets to complete the trainings.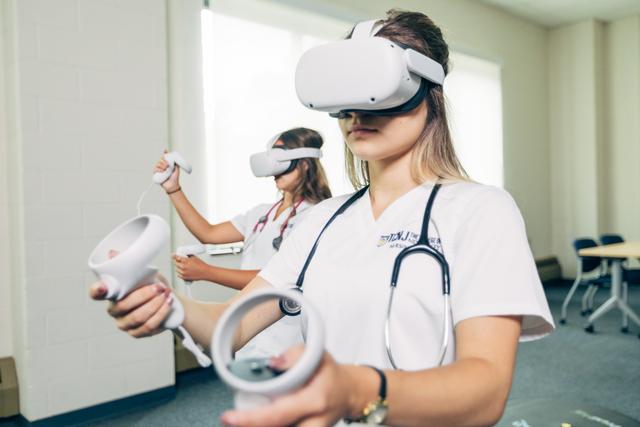 The Bodyswaps virtual reality software library will help future nurses practice how to better interact with patients, their families, their medical colleagues, and even hiring managers. There are a wide range of practice scenarios, including practice job interviews, conflict resolution, and even helping a patient who is dealing with depression and anxiety.
Lebo says that nursing students need to practice having conversations that can sometimes be stressful. "Imagine having to discuss end-of-life care with a patient's family," she says. "That's not a basic conversation and it's not something you just know how to do."
VR provides a safe space to practice demonstrating empathy without judgement. Students can practice important scenarios (complete with feedback on how they did and what they can do better) and then take that experience to the next level with standardized patients — real people who are actors — in real-life simulation scenarios.
This software becomes the latest addition to The Department of Nursing's Simulation Center, "sim lab" as it is known on campus, which offers traditional simulation tools like mannequins and medical monitoring equipment that help students learn to practice caring for patients. It even offers a VR program where students don headsets for a 360-immersive experience in a patient's room with all of the tools you'd find in a hospital setting.
"When you put on the VR headset, you leave the sim lab and enter the patient's room. You can see them right in front of you, and you are given full autonomy on what decisions are made and what actions are taken," says nursing major Morgan Hargrave '23. "I've had a wonderful experience using VR and would recommend it to any health care professional looking to improve on critical thinking and communication skills."
---
— Emily W. Dodd '03