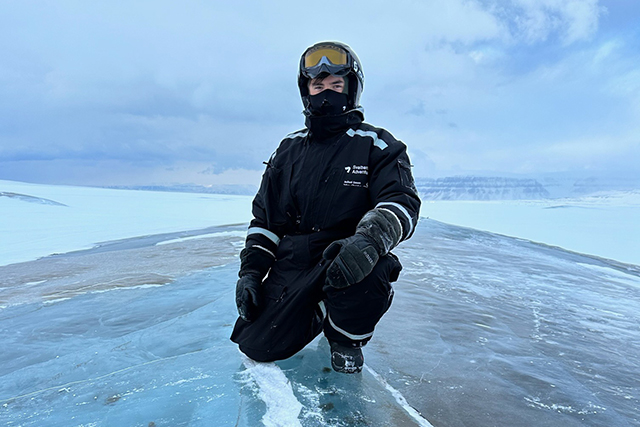 While many students use spring break to rest, recharge, or maybe even visit someplace warm, Henry Dillard '23 decided to take the path less traveled. The management major trekked north to Svalbard, an island situated between Norway and the North Pole in the Arctic Ocean, home to some of the planet's most stunning landscapes and wildlife.
Dillard chose the remote location for a chance to capture its natural beauty through his camera lens. "I wish I could say I helped make ice for the polar bears or scrubbed grime off the arctic seed vault, but alas, I was an ordinary tourist," Dillard says. "The island offers unique and stunning vistas that are hard to find elsewhere; it really feels like a planet from 'Star Wars.'"
In between the snaps of his camera, Dillard explored the town of Longyearbyen via snowmobile ("which is about the size of TCNJ's campus"), witnessed a pingo ("a rare geological phenomenon akin to an ice volcano"), and spotted reindeer in the wild.
And though Dillard may have just been an "ordinary tourist," he still got a chance to interact with the local, multinational community.
"I figured any attempts at using Norwegian would be met with a disinterested response, given the ubiquity of English among Norwegians," Dillard says. "However, this was not the case. I used my admittedly terrible Norwegian once with a shopkeeper, and she enthusiastically fixed my mistakes and taught me words when I faltered."
Dillard also found maybe the only other American in the region at the time, "a Stanford alum on a research break from residency," he says. "It was mutual relief to have a buddy. After all, if there is no one to take pictures of you for Instagram, did you even go?"
---
— David Pavlak