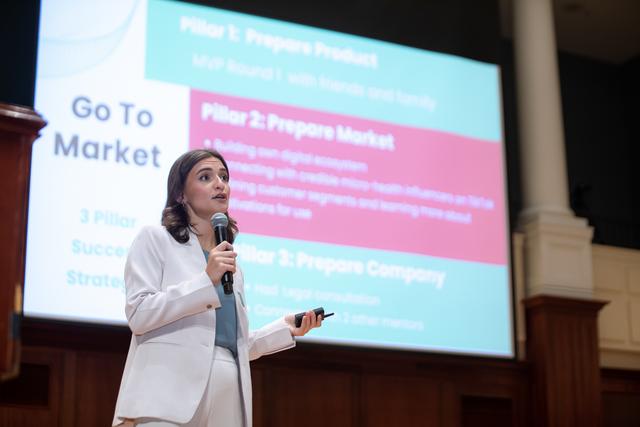 Molly O'Brien '23 and Katrine Olsen '23 won the first-place prize of $30,000 in the 2023 Mayo Business Plan Competition for their pitch of a health and wellness empowerment app for young women with chronic health conditions. The seniors plan to use the prize money to hire an app developer and help raise $2 million in capital for the venture's launch in 2024.
O'Brien, a marketing major, and Olsen, who studies communications, impressed the judges with their detailed plan for H.E.R. for You, envisioned as a subscription app to provide information, support, and an interactive community to women, who are often ignored and misdiagnosed by medical professionals.
H.E.R. stands for Health Empowerment Reimagined. The app will use AI and machine learning to help women get information tailored to them. About half of all women are living with a chronic health challenge, according to the pitch. The app will initially target college-aged women, a group that the team's research found now gets most of its health information from TikTok.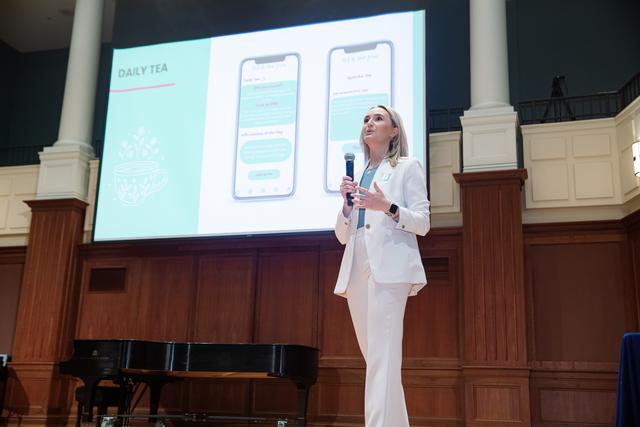 "We are so passionate because we know this kind of app could have helped us in our health journeys," said Olsen, who has dealt with psoriasis, migraines, and concussions. She said the food and ingredient information on the app will be of particular help in managing migraine triggers. Likewise, O'Brien, who struggled with anxiety and an eating disorder, said it was important that the food information component be "framed positively," unlike those found in commercial apps now available.
The Mayo Business Plan Competition, which began in 2011, enhances academics "while inspiring creative entrepreneurial students," said School of Business Dean Kathryn Jervis. Students from all different schools and departments at TCNJ were represented in the business competition, which was judged by a team of alumni who have achieved success in the business world.
This year 11 teams competed in the challenge, spending most of the academic year on their projects and semi-final competitions. Three teams made it to the finals in Mayo Concert Hall on March 29, where each had 30 minutes to make presentations and respond to judges' questions.
In all, $60,000 in prize money was awarded. A plan for an online tool to make healthcare costs more accessible and affordable placed second, garnering the team $20,000. The third-place team, which designed a rotating display case, won $10,000. Benefactors Professor Herbert B. Mayo, who established the competition, and Eric Szabo '97 attended the finals.
Feedback from the judges in earlier rounds and focus groups helped the winners hone their concept, as did fellow competitors: "In all the rounds I was blown away by the caliber of the projects. It was incredible to see," said O'Brien.
Judges put the H.E.R. team in contact with potential investors. With graduation and full-time jobs in the offing, the seniors will be working nights and weekends to launch their promising side gig.
"We really see the possibilities and where this can take us," Olsen said.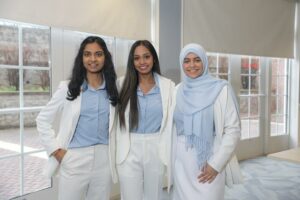 Second place ($20,000): CrystalCost by Hajer Ali '24, biomedical engineering; Nitya Devisetti '25 biology; Venkata (Pooja) Singamneni '25, biology. The team pitched an online medical billing transparency tool that includes an advocacy feature, whereby prices are audited and negotiated on behalf of the subscriber. The team said the timing was optimum for its product given new federal transparency rules adopted this summer and the prevalence of erroneous medical billing. The launch would initially target small businesses and self-insured individuals.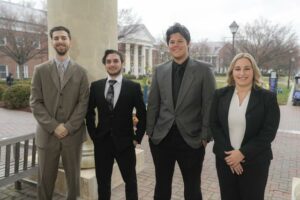 Third place ($10,000): Kinetic Art Display by Reid Carrico '23, mechanical engineering; Madison Donohue '23, finance; Tyler Federoko '23, mechanical engineering; Nicholas Moriello '23, mechanical engineering. The team said it found a solution to dead space in display cases that sit against walls by developing one with rotating and adjustable shelves that could be marketed to retail, colleges and universities, sports venues and convention centers. The group brought "Miss Kinetic" to the presentation — a half-scale prototype developed with the help of a TCNJ engineering professor — and plans to seek a patent.
---
— Patricia Alex