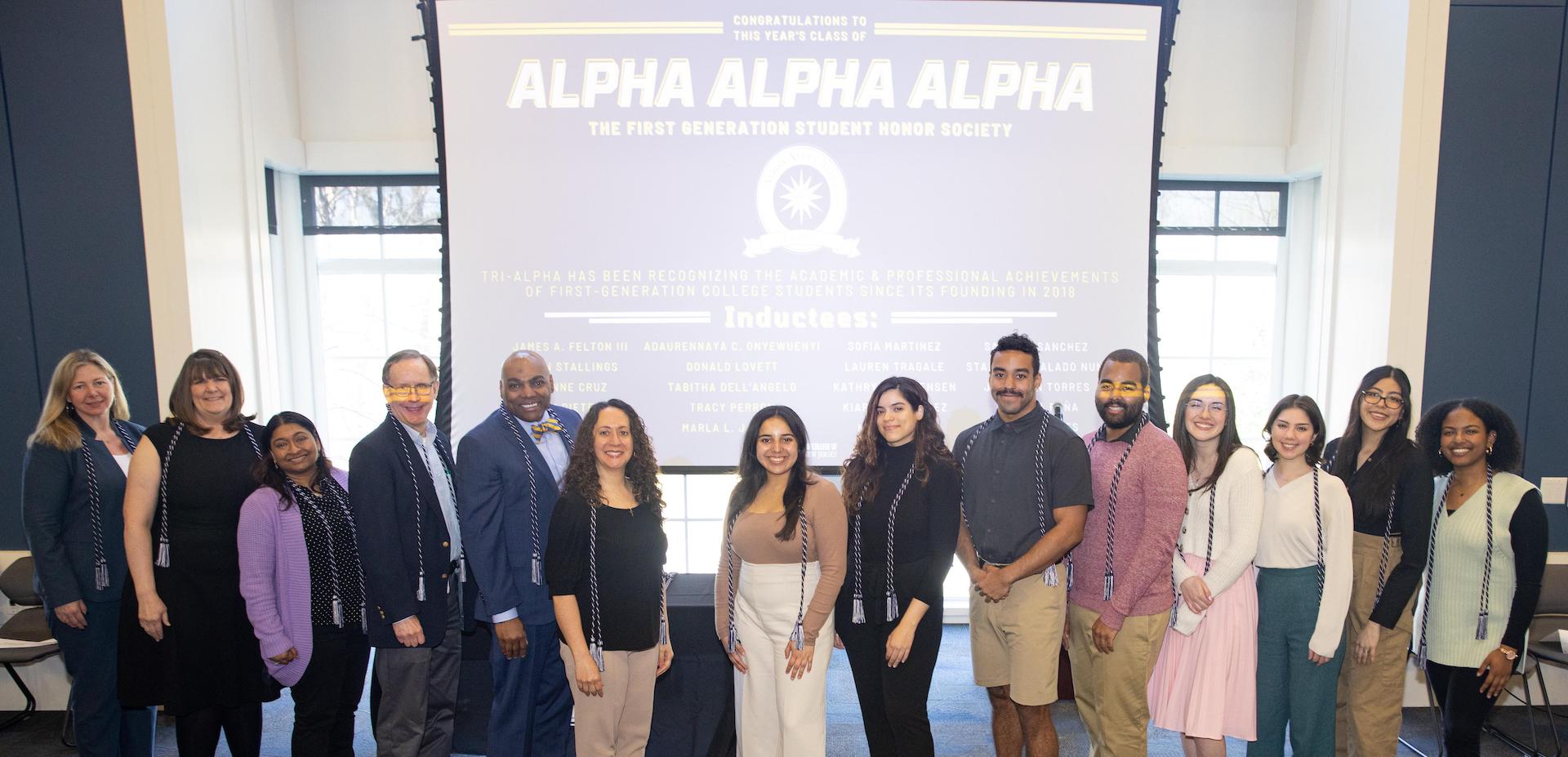 TCNJ capped off its third annual First Generation Celebration on April 10 with the induction of its inaugural class of the Alpha Alpha Alpha honor society. Tri-Alpha, as it is commonly known, is a national organization established in 2018 to recognize academic excellence among first generation college students.
Sofia Martinez '25, a speech pathology major who identifies as first generation — a student whose parents did not attend a four-year college or university in the United States — was among the 10 student inductees.
"This is a big step in officially recognizing the merits of our community," she says. "I am hopeful that the establishment of Tri-Alpha will go a long way toward making first gen students feel fully welcome and integrated into the campus scene."
About 30% of TCNJ students are first generation, and because of that, they may face unique challenges adapting to the college experience. Support from others who are also first generation is key to helping these students thrive.
Ten faculty members, all first gen themselves, were inducted alongside the students and will serve as mentors and advisors.
"It is imperative that first gens have their own honor society because feeling seen, heard, and valued matters," says Tacquice Davis, assistant vice president of inclusive excellence at TCNJ. "The honor society puts these students into leadership roles."
"As leaders, we represent our cultures and can show the value diversity brings linguistically, politically, socially, and academically," says Martinez. "Our success here gives us the power to open doors for the future classes of first gen students and for all scholars rising from disadvantaged and underrepresented backgrounds."
Please welcome the TCNJ's first members of Alpha Alpha Alpha:
Students:
Kiara Fernandez '24
Keren Gouin '24
Quincy James '25
Kathryn Jorgensen '24
Sofia Martinez '25
Marissa Pena '23
Starlin Regalado-Nunez '23
Sabrina Sanchez '25
Jocelynn Torres '23
Lauren Tragale '23
Faculty/Staff:
Tammy Dieterich
Ivonne Cruz
Tabitha Dell' Angelo
James A. Felton III
Marla L. Jaksch
Donald Lovett
Adaurennaya Onyewuenyi
Tracy Perron
Avani Rana
Sean Stallings
---
— Kara Pothier MAT '08