"In the Club" is a series that showcases some of the 230+ recognized student organizations at TCNJ. Want to have your club featured? Drop a line to tcnjtoday@tcnj.edu to be considered for a future story.
---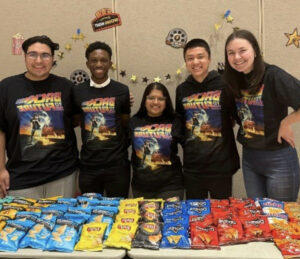 As students stood in line waiting for the doors to open for Late Night Take's next on-campus movie-theater experience, there were no DeLoreans parked in the lot, no self-lacing shoes on anyone's feet, and Doc wasn't fidgeting with the flux capacitor, but that doesn't mean everyone wasn't ready to go back in time and watch "Back to the Future."
As the official movie appreciation club at TCNJ, Late Night Take sets up a big-screen projector in the student center with snacks and food from Chick-Fil-A, Shake Shack, and Insomnia Cookies for a theater-like movie night right on campus. The club also aims to present movies that are not available on streaming platforms, giving students a special opportunity to view a movie that is not easily accessible. "Back to the Future" was selected through a "March Madness"-style bracket on the club's Instagram.
"Not only have we been able to truly figure out what people want to see on campus, but we also use our social media to give viewers and participants a voice," said Vinisha Patel '25, who is the operations director of the club. "This was one of our greatest turnouts because people got to see a movie that they wanted to see."
The club averages about 200 people per movie, according to Dylan Nguyen '24, vice president. Nguyen credits his involvement with Late Night Take to helping him branch out to different genres, including nail-biting horror with Jordan Peele's "Us" and the crime thriller "Now You See Me."
By no means is this club earmarked for so-called "film students," as the executive board of Late Night Take features students from a variety of different majors that simply enjoy watching movies.
"We want everyone to come together and have fun regardless of your major," said Patel, a bioengineering major. "The executive board loves bringing people together who otherwise would not have connected. At our events, we have people sitting next to people that they didn't come with, making new friends and creating connections through film."
Check out @tcnj_latenighttake on Instagram for information on their next event.
---
–– Kaitlyn Bonomo '23