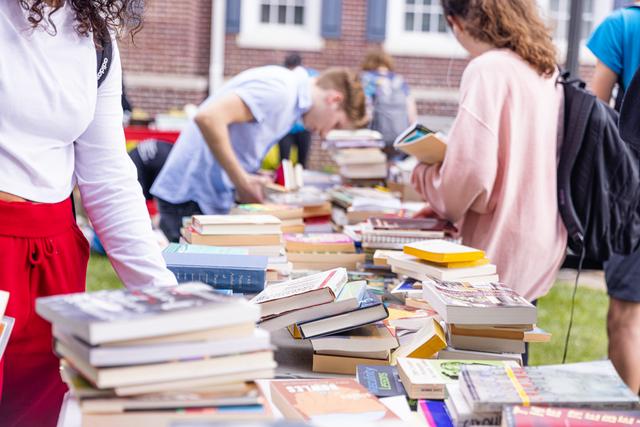 What started as an effort to save books from the trash bin is now a three-day campuswide book-a-palooza — and one of the college's newest annual traditions.
"We had many retirements during COVID and shortly after, and many of the professors weren't sure what to do with the books that they were leaving behind," says Michelle Ordini, program assistant in the English department and book fair organizer.
Rather than toss them, Ordini had a lightbulb moment.
"I posed the idea of keeping them out of the trash and allowing for students and other campus members to enjoy the diversity and wealth of options available with books from the departments in Bliss Hall," she says.
With support from her department chair and dean, she soon had funding to rent tents and tables to showcase the books to campus bibliophiles. Ordini's conservative estimate is that over 8,000 books have been rehomed over the course of the past two book fairs.
Now in year three, Ordini says there are more than 14,000 books up for grabs. "We are bursting at the seams this year!" she says.
The books were donated by members of the campus community as well as several book collectors and members of the local community looking to share their riches.
The book fair is open to TCNJ students, faculty, and staff on Thursday, September 28 and Friday, September 29 from 9:30 a.m.–3:30 p.m. on the lawn between Bliss Hall and the Business Building. The greater Ewing community is invited to share in the book love on Saturday, September 30 from 10 a.m.–4 p.m. during the annual Ewing Township/TCNJ Community Fest, where the book fair will be set up in front of Trenton Hall.
Members of the TCNJ and Ewing communities are invited to donate any gently used books to the fair. Books can be dropped off in Bliss Hall 129 by Wednesday afternoon, September 26 or brought directly to the book fair tables during the event.
But if you can't make it this week, you're still in luck if you're on campus. "We always have free books coming and going from the bookshelves in Bliss Hall," Ordini says.
Contact Michelle Ordini in TCNJ's Department of English for more information.
---
— Emily W. Dodd '03