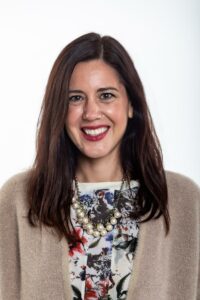 Kathleen Grant, assistant professor of counselor education at TCNJ, spoke at Hopewell's Bear Tavern Elementary School recently as a part of a professional development day for its teachers. Her topic: eco-anxiety.
"Climate change profoundly impacts the lives of this generation of children and adolescents," Grant says. She shares her research with teachers, school psychologists, and counselors so that they can be more aware of what some students may be feeling. Eco-anxiety, she says, is "a chronic fear of ecological doom from exposure to climate change and its implications for current and future life on Earth."
She also works with high school students to increase their understanding of the link between climate change and their own mental health.
According to Grant, eco-anxiety symptoms can include: grief as a result of the loss of natural environments, anger at the inaction of older generations and the government, guilt about one's own complicity, and a constant, underlying sense of fear and existential dread. Some young people suffer from trouble sleeping and concentrating, as well as generalized depression and anxiety. She also observed a sense of helplessness among her subjects, who feel unable to make a difference in the fight against climate change.
The faculty at Bear Tavern say Grant's research will help them to better support their students.
"Kids now see how much change there is, and we need to understand that they are experiencing loss," says Diane Dempsey, as social worker at the school. "For example, they may live in a town affected by floods, or they may see the loss of trees in a park they used to walk through. We can acknowledge their feelings and try to give them a sense of control with projects like recycling so that they can start to be less scared."
---
— Corinne Coakley '25