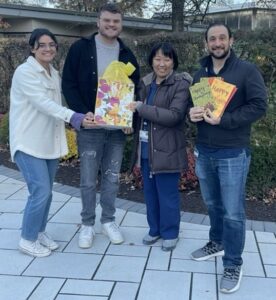 The College of New Jersey's campus community has deepened its impact to the broader recovery community by partnering with Penn Medicine Princeton House Behavioral Health to create and send patients cards bearing messages of gratitude and encouragement for Thanksgiving.
The cards, which were created by students during an event at the Brower Student Center on November 20, were delivered by Eric Van Eck, recovery and prevention coordinator of the TCNJ Collegiate Recovery Program.
"This is one of the most meaningful events the collegiate recovery community does every year," said senior psychology major Robert Mitten. "When in treatment, it can be tough being isolated from the outside world and to struggle with feeling hopeful — and that can be especially difficult during the holidays. By writing cards of encouragement, we hope to give them that boost of hope and to let them know, regardless of absolutely anything, that they are loved and that their hard work will pay off."
TCNJ students also sent cards last Thanksgiving and Valentine's Day, and will continue to find ways to offer support to those in the hospital's recovery program.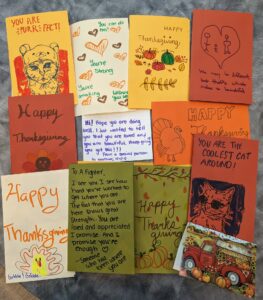 "This time of year 'thankful' and 'grateful' are words we hear often," said Yuko Martin, director of allied clinical therapies at Princeton House. "For our patients, illness can cloud their ability to see the positive — at least right at this moment. When we share the cards of encouragement from TCNJ students, it's tangible proof to them that there are others out there who care."
TCNJ's Collegiate Recovery Program is dedicated to changing lives by providing comprehensive support to students in recovery. Through a robust recovery community, recovery housing, and recovery coaching services, the program equips students to achieve their academic aspirations, grow personally, and achieve their goals beyond the college experience.
---
— Luke Sacks