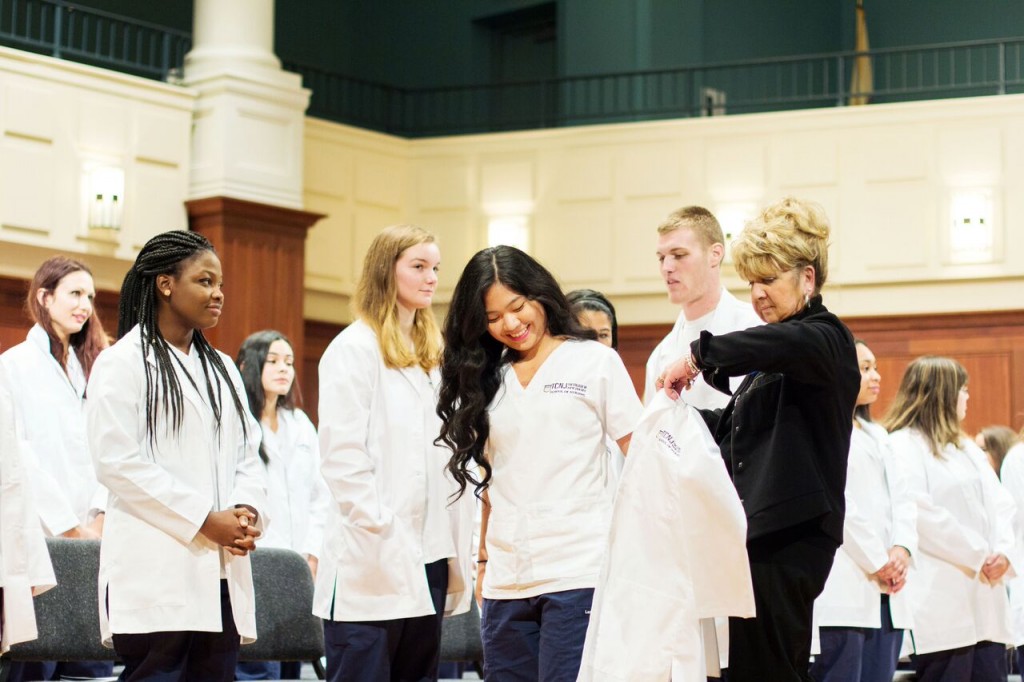 Faculty from TCNJ's School of Nursing, Health, and Exercise Science presented white coats to 70 nursing students during its inaugural White Coat Ceremony on Wednesday, Nov. 18.
"We're honoring students who are just beginning their professional journey," said Carole Kenner, dean of the school.
A White Coat Ceremony is a formal welcome into the nursing profession, and is a long-standing tradition in other health-related fields. It emphasizes a commitment to comprehensive, patient-centered care among future nursing professionals.
The students—all members of the class of 2018—received the coats in advance of their first clinical rotations in the spring semester. These clinical rotations, Kenner said, will transform them from students of nursing into nurses.
Elena Shupak '16, president of TCNJ's Student Nurses Association, encouraged her classmates to wear the white coat with pride.
"What a great time to be a nurse," said Elizabeth (Betty) Sheridan '79, chief operating officer at Inspira Medical Center in Vineland and chief nursing executive at Bridgeton, Elmer and Vineland Campuses at Inspira Health Network, who delivered the keynote remarks. "You are in one of the most trustworthy professions, where you focus on patient care and making a difference in the lives of families. You are the future of healthcare, and you are in great hands."
TCNJ's inaugural ceremony was made possible by a grant from the Arnold P. Gold Foundation, in collaboration with the American Association of Colleges of Nursing. The ceremony comes on the heels of the Department of Nursing's selection as a National League for Nursing Center of Excellence. TCNJ is one of only 40 schools in the country to be designated as such.
---
—Emily W. Dodd '03