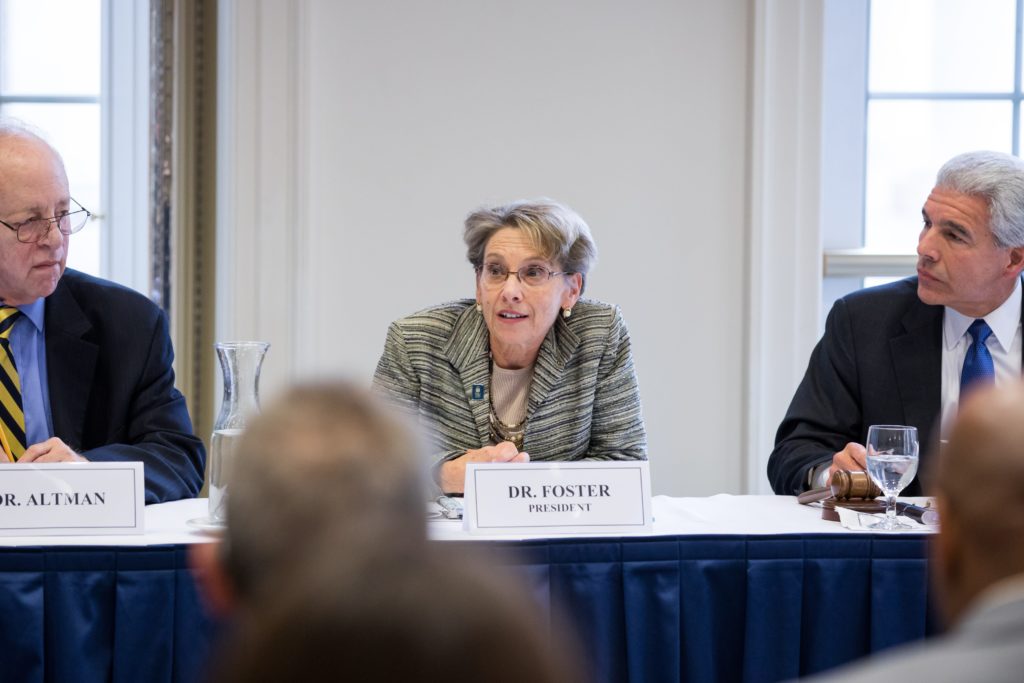 At Tuesday's meeting of TCNJ's Board of Trustees, President Kathryn Foster reviewed her first 108 days in office. Harkening back to the four questions she presented at her first board meeting in July, she emphasized that the overarching aim of her first year as president is to clarify our priorities and align the relevant pieces — our strategy, our budget, our capital investment plan, and our programming — to ensure that we are making the most responsible and wise choices for today and tomorrow.
"Our responsibility as leaders is not solely to applaud the present, but to position TCNJ to be an exemplar 3, 5, 10, and 20 or more years into the future. Doing so requires informed and aligned actions today," she said.
To achieve this, Foster proposed four objectives for the college community in the coming year:
Educate ourselves about the external and internal environment. This includes both the dynamics, trends, assumptions, and competitive landscape of higher education, as well as the profile, positioning, performance, and trends of TCNJ.
Clarify our priorities, i.e., what matters most. "If you subscribe to the saying that 'we manage what we measure,' then it is imperative that what we are measuring aligns with our top priorities," she said, noting that the board discussed key performance indicators earlier in the day.
Examine our budget, capital investment plan, and programmatic choices to determine how well they in fact reflect and support our priorities. "Are we investing in the things that matter most?," she asked.
Adjust our budget, capital investment plans and academic and administrative operations to align with our priorities.
Foster concluded by noting that accomplishing these four steps will require a process. She pledged to ensure the one the college takes "is open and inclusive and, let's envision, meaningful and fun. Open sessions, breakfast seminars, lunch and learn sessions, whatever will work. We will undertake this work together."
---